REOPENING OF BANGOR CHESS CLUB : Sept 2021
BANGOR CHESS CLUB, Groomsport Parish Halls, County Down The members of Bangor Chess Club plan to reopen in September 2021. A report from Brendan Jamison.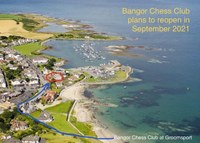 Like the Ulster Chess Union at large, Bangor has a very large portion of members who are pensioners or players with existing health conditions. Therefore the wearing of masks and gloves and disinfection of chess pieces is still not deemed safe enough to ensure continuous protection from coronavirus.
A chess player's head can be as close as 2 feet from their opponent (just over half a metre) when both are sitting over a chess board. To play chess under the current global pandemic could put many lives at risk. Even younger players with a strong immune system could catch the virus through playing chess and then pass it onto vulnerable members of their family or local community.
While chess clocks and pieces can stubbornly harbour infection from continuous touching by multiple players at a tournament, there is also the fact that simply talking or laughing too close to someone can actually propel droplets containing the virus in a similar fashion to its projection from coughing and sneezing. In light of this, the most responsible course of action is to be patient until it is safe for everyone to return to the local chess scene.
Founded over 50 years ago and running every year since then, it is Northern Ireland's longest continuous running club, but Bangor Chess Club will now remain paused until a Covid-19 vaccine can be rolled out across the general population. The club looks forward to returning in 2021 with its regular programme of monthly tournaments and popular lecture series.