Lockdown Summer Tournament: weeks 12 - 14
How are the standings after 14 weeks of the Summer Tournament and some 70 games of slow chess.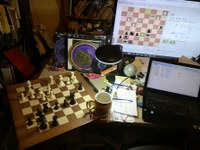 The games over the last 3 weeks are listed below. Its quite fun to play through them. Just click on the links.
So what are the current standings.
Andrew Todd has the top percentage - having not yet lost a game with 93.75% after 8 games. Followed closely by Michael Mckimm who also has managed to win all games but one draw. Then I am suprised to be 3rd followed closely by David Corr who has had some brilliant results and 5th is Michael Hood who has had a brilliant tournment. Robert Lavery is close on the pack with 70.83%. Then after this grouping of players we have Chris Armstrong with 50%.
If you want to play slow chess - please feel free to email me and join in the fun.
I would like to thank all the players for playing as its not about the results but the game and the challenging positions and the thinking and planning. The battles are fun win or loose thats the beauty of Chess - the playing of the game.
| | | | | | | |
| --- | --- | --- | --- | --- | --- | --- |
| | Rating | Name | lichess user | Score | Played | % |
| 1 | 1600 | Cathal Keany | Ckeany | 1 | 1 | 100.00 |
| 2 | 1370 | Andrew Todd | Toddy-Aberdeen | 7.5 | 8 | 93.75 |
| 3 | 1192 | Michael Mckimm | Meitnerium | 6.5 | 7 | 92.86 |
| 4 | 1642 | Mark Newman | ishi100 | 8 | 10 | 80.00 |
| 5 | 1000 | David Corr | MrScrumps | 6 | 8 | 75.00 |
| 6 | 961 | Michael Hood | michaelhood | 8 | 11 | 72.73 |
| 7 | 1645 | Robert Lavery | Yreval | 8.5 | 12 | 70.83 |
| 8 | 1377 | Chris Armstrong | pcmorphy | 5.5 | 11 | 50.00 |
| 9 | 1215 | Bernard McGahan | jtsdad | 3 | 8 | 37.50 |
| 10 | 1200 | Joseph Gunning | Josephgun | 4.5 | 12 | 37.50 |
| 11 | 1053 | Kyle Milligan | pinallwizard | 3 | 8 | 37.50 |
| 12 | 1259 | Adrian Dornford-Smith | Dornford | 3.5 | 10 | 35.00 |
| 13 | 1218 | Stephen Cullen | steviec44 | 1.5 | 5 | 30.00 |
| 14 | 1614 | Michael Sheerin | RDWRER | 1 | 4 | 25.00 |
| 15 | 895 | Paul Anderson | Number_8 | 2 | 12 | 16.67 |
| 16 | 1400 | john Sweeney | Johnsweeney | 0.5 | 4 | 12.50 |
| 17 | 1464 | Richard Gould | nir8888 | 0 | 1 | 0.00 |
| 18 | 1245 | Chris Dorrian | faunorcival | 0 | 1 | 0.00 |
| 19 | 1241 | Vincent O'Brien | V_blunders | 0 | 1 | 0.00 |
| 20 | 640 | George Gamble | ChessGeorge13 | 0 | 6 | 0.00 |
| | | | | | 140 | |