Scannell attains Ulster Rapidplay crown
On Saturday 30th December, Steve Scannell became the new Ulster Rapidplay Champion.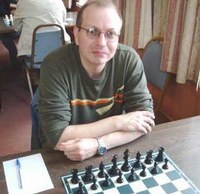 Scannell - Ulster Rapidplay Champion
A total of 35 people attended and competed with some of Ulster's top players. Inevitably it was outstanding favourite Scannell who clinched the title with a convincing final round victory over Richard Proctor, in which he not only wiped his Bangor club mate off the board, but off the table and his usual elevated perch upon stacked chairs.
Steve's total of 5.5 points from 6 was enough to see him finish just a half-point ahead of second seed Michael Waters, who claimed second place ahead of a strong field of challengers.
Even though Waters entered the final round level with Scannell - after the two shared a fifth round draw - he can perhaps consider himself more than a little lucky not to be beaten into second place by Queen's player Calum Leitch. In their final round clash Leitch's flag fell just moments away from victory to leave Water's solitary king enough to claim the crucial draw.
This left Clifton House player Nicholas Pilkiewicz with the 3rd place prize on tiebreak, while Ciaran Marron and Peruvian newcomer Casana Aquiles won grading prizes.
PRIZE WINNERS
1st: Steve Scannel l2nd: Michael Waters 3rd: Nicholas Pilkiewicz
 U 1600: Ciaran Marron U 1200: Casana Aquiles