City of Belfast Championships 2007
The Belfast Boat Club hosted the City of Belfast Championships 2007, with the event dividing competitors into separate sections to fight it out for the Nemztov and Henderson Cups. As is becoming the norm, and ever increasingly so, the tournament witnessed excellent results for QUB players. QUB summer signing Steve Scannell finished half a point ahead of the rest of the field in the Nemztov, while Chris Millar did likewise to lift the Henderson Cup.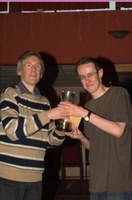 Reporter and Henderson Cup champion - Chris Millar
NEMZTOV CUP
Steve Scannell justified his billing as pre-tournament favourite to lift the Nemztov trophy. Scannell finished with 5.5 points out of 6 - the sole half point being dropped while playing as black against Michael Waters in a hard fought draw during round 3. The slight edge of having an extra remaining game as white compared to his main rival going into the second day was probably a telling factor in the Yank's Nemtzov success. That alongside his penchant for winning relentlessly when required in such competitions of course.
Unsurprisingly, Fisherwick's Waters himself was in contention with Steve right until the final round, but here his hopes of sharing first place were scuppered by the latest Queen's recruit, Ian Davis. Holding off Michael's best efforts for the win, Ian managed to secure not just a draw, but a grading prize along with it. A very satisfactory result for the newbie Galactico, not least given that this tournament marked his return after a two year absence from the game.
It was Gareth Annesley of Clifton House, however, that came closest in the final standings to the tournament's "big two". Although Annesley suffered defeats against both Scannell and Waters, he won every other match to finish in third place with four points.
A welcome addition to the Nemztov section were two newcomers to UCU weekenders, Nick Fullerton and Queen's player Vladimir Pucovsky. Both put in respectable performances in the eilte field of ten.
| | | | | |
| --- | --- | --- | --- | --- |
| PLACE | NAME  | RATING  | CLUB  | POINTS  |
| 1 | Steve Scannell  | 2133  | QUB | 5.5  |
| 2 | Michael Waters | 2069  | Fisherwick  | 5  |
| 3 | Gareth Annesley | 1916  | Clifton House  | 4  |
| 4 | Ian Davis | 1770  | QUB  | 3  |
| 5-7  | Nicholas Pikiewicz  | 1929  | Clifton House  | 2.5  |
|   | Christopher Kelly  | 1649  | Civil Service  | 2.5  |
|   | Wenceslao Torres  | 1653  | Civil Service  | 2.5  |
| 8  | Vladimir Pucovsky | 1781  | QUB  | 2  |
| 9-10  | Mark Newman  | 1816 | Shorts  | 1.5  |
|   | Nick Fullerton  | 1716  | -  | 1.5  |
HENDERSON CUP
This trophy, previously won by Ulster chess legends such as Arthur Pinkerton and... Damien Lavery, was to be fought over by a particularly strong entry, with six of the nineteen competitors rated over 1500. It was QUB captain Millar that finished on top though, comfortably winning his opening four games before cruising home with two draws.
The first serious threat to your author's challenge was posed by Knight f7 sacrifice in round four by the agreeable Richard Proctor. Proctor's subsequent nod towards an onlooking Brian Gilner suggested that the Bangor player thought there was enough in his attack to deliver victory, but it soon fell flat. Proctor's competitive spirit refused to do likewise, however, as the boisterous Bangor captain even optimistically prepared a queen for himself in a dead lost endgame without a passed pawn in sight.
The penultimate rounds saw Millar meet the leading lights of the RVH contingent, Brian Gilner and Joseph Mordeno. Gilner had previously been overheard conspiring a plot of RVH domination of the Henderson, but such hopes were to prove about as dubious as the average Proctor sacrifice. The Queen's captain blew his advantage against Gilner by dropping a piece, but utilised a passed pawn to force a draw. In the final round, the edge enjoyed by Millar over Mordeno wasn't sufficiently substantial to justify refusing a first-place securing draw offer from the RVH player.
Mordeno was still left with the consolation of joint second having gained 4.5 points, suffering his only loss against William Storey on Saturday morning. The runner-up spot was shared with Paul McLoughlin, who recovered from a disappointing opening day to see off Stewart McConaghy and then Brian Gilner on Sunday evening to clinch his share of the prizemoney.
Grading prizes in the section were secured by Alan Burns, Pat McKillen and Cathal Murphy. Murphy excelled most notably, with the 800-rated player gaining four points in total.
| | | | | |
| --- | --- | --- | --- | --- |
| PLACE | NAME  | RATING  | CLUB  | POINTS  |
| 1  | Chris Millar  | 1536 | QUB  | 5  |
| 2-3  | Joseph Mordeno  | 1564 | RVH  | 4.5  |
|   | Paul McLoughlin  | 1579  | Bangor  | 4.5  |
| 4-5  | Brian Gilner  | 1541  | RVH  | 4  |
|   | Cathal Murphy  | 881  | RVH  | 4 |
| 6-8  | Richard Proctor | 1540  | Bangor  | 3.5  |
|   | Pat McKillen  | 1290 | North Belfast | 3.5  |
|   | Alan Burns  | 1403  | Bangor  | 3.5  |
| 9-10  | William Storey | 1298 | -  | 3 |
|   | Owen Wilson  | 967  | Bangor  | 3  |
| 11-14  | Stewart McConaghy  | 1556 | Shorts  | 2.5 |
|   | Kevin Agnew  | 1246  | Bangor  | 2.5  |
|   | Alex Beckett  | 1365 | Fisherwick  | 2.5  |
|   | John Monaghan  | 1104  | RVH  | 2.5  |
| 15-17 | Kevin O'Neill | 919  | -  | 2 |
|   | Peter Storey | 659  | -  | 2 |
|   | Roy Stafford | 1391 | Shorts  | 2 |
| 18-19  | Geoff Hindley  | 1023 | Civil Service  | 1 |
|   | David Seaby  | 1038  | Fisherwick  | 1 |