Steve Scannell's Sparkling Simultaneous
Ulster Chess faithfuls were treated last night to a simultaneous performance by Joint Ulster Champion Steve Scannell, who gave a terrific exhibition of how to play 10 boards at once.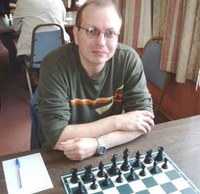 Steve Scannell - emerged with 6 wins and just 4 defeats in his simultaneous display
Normally on a monday night at Fisherwick, Ulster's chess players turn up to play in an on-going tournament played in a swiss format. However last night on Monday 6th November the players were rewarded with a simultaneous display from one of Ulster's top players - Steve Scannell. This is turning into an annual event organised by another one of Ulster's top players - Michael Waters.
Ten players in all turned up to do battle and test their abilities against Steve, with Steve prevailing in six out of the ten matches. The speed at which Steve was making his moves showed his natural feel he had for this type of experience and was even putting time pressure on his fearless opponents. Credit goes to Robert Lavery of QUB for winning, yet alone winning first. Stewart McConaghy of Bombardier also had a win as did Calum Leitch of QUB. The last game to finish saw the only Fisherwick win of the night which was produced by Richard Gould.
Steve's creditable victories came against mainly home opposition in James Fairley, David Seaby, Alex Beckett, Iain Woodfield and Bernard Jaffa all incidentally of Fisherwick. The only non Fisherwick player to lose was Owen Wilson, perhaps slightly unlucky as it was a game which saw blunders from both players.
Steve's valiant efforts were justly rewarded with a FIDE tournament approved clock. A prize worthy of the tiredness which Steve will undoubtedly be feeling. Players will surely feel that it was a night to remember and simulatenous displays are normally those which are enjoyed by all. The players who emerged victorious will savour their wins and a certain Stewart McConaghy is known to enjoy these displays immensely, as he has a favourable record and even has the cheek to ask the chosen participant to sign his scoresheet!