UCU Division 1 2007/08 Preview
With the 2007/08 Belfast & District League now imminent, Chris Millar offers a pre-season outlook on the landscape of Division 1 from a Queen's perspective.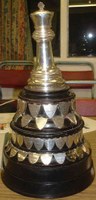 The "Silver King" trophy
After last season's dominant march to claim Division 2 and the John Strawbridge Cup, 2007/08 sees Queen's face a very different proposition. Now in Belfast & District League Division 1, the Premier League of Ulster Chess, Queen's elite chess players are set to enter a title race which promises to be among the closest for several years. Can the QUB Chess project, instigated by Chris Millar in 2005, achieve its ambitious goal of adding the highest domestic club title on offer to the club's Irish Intervarsity triumph?
Best practice suggests one must first examine the teams most likely to stand in the way of the University men.
Top of the list, undoubtedly, and probably just about favourites for the title and "Silver King" trophy, are Danny "familiar face" Mallaghan's Clifton House. With QUB Open winner Steve Morgan, Gareth "the big man" Annesley and Nicholas Pilkiewicz all on board - in addition to their aforementioned captain - they look in excellent shape. Clifton will certainly be planning to retain the Silver King for a remarkable fourth season on the bounce.
The almost definite return of Fisherwick is also glowing brightly on the QUB radar. 2006 joint Ulster Champion Michael Waters will lead their pursuit of the title of course, accompanied by the experience and skill of Kieran Greer and former Irish Champion Ray Devenney. As always, Fisherwick will additionally have mass ranks of Division 1 experience in reserve to call upon for the lower boards.
Furthermore, North Belfast must not be overlooked. David Houston ended last season as the Division's Board 1 prize-winner, Adrian Skelton continues to play regularly and Eamonn Walls - now a Queen's student as it happens - clocked up the highest percentage on board 3 in the top flight last year. That trio, when teamed with the Woods brothers, has more than enough to challenge any of the other sides.
Civil Service could well feature in Division 1 again next year, despite finishing bottom of the league last season. It seems they will reappear with a new venue and name, however, with Chris Kelly now captaining the Belfast Boat Club based "Lagan". The exact make-up of the playing squad remains unknown as yet.
QUB had been hoping to build upon the strong core of their Division 2 winning side - full of Division 1 standard quality as it was - by adding just one other top-drawer player. However, these plans were dealt a massive blow by the news that not only would Ulster Intermediate and Under 19 Champion Cal Leitch be spending most of his next year "studying" in Preston University, as had long been suspected, but also that the 2000 Fide-rated and Division 2 Board 1 prize-winner Claudio Mendicute was to make a premature return to sunny Spain. It would have been extremely remiss of the QUB captain to allow such bedrocks of the side to go without making major additions to his team's panel. Rivals may be dismayed to note that such a myopic mishap has not befallen your author.
First up was the summer signing of Ulster Champion and six-times Williamson Shield winner, Steve "Real American" Scannell. The Yank has been among Ulster's most consistent performers and prolific winners over the last decade. Having this year already lifted the Williamson Shield, Nemztov Cup and Ulster Championship crown, he looks as likely as ever to continue in the same rich vein of form. This is not to suggest that Scannell is likely to find this league season anything less than arduous - the likes of Waters, Annesley, Morgan and Houston will probably make up the formidable opposition he is set to face on board 1.
Next in to the QUB ranks arrived Ian "Dragonslayer" Davis. Davis is undeniably a player with considerable Ulster Chess pedigree - competitive wins over the likes of Michael Waters and Steve Scannell are already under his belt. Ian also played a crucial role in the Methody side which famously won the Times British Schools Championship back in 1995. Add to this the fact Ian comes blessed with good omens, having played as top board in the Malone side which won 16/16 games to claim Division 2 just a few years ago. That won't happen for QUB this year (a half point overall win would be plenty), but the Dragonslayer's performance and under 1800 grading prize in the Nemztov Cup illustrates the permanency of class.
The two new arrivals join the remainder of the panel which enjoyed success last season: John "Maestro" Masterson, the Slovak Vladimir Pucovsky, Fred "Hollywood" MacDonald (aka Fred "the Russian" MacDonald - at least when William McGrattan is present) and the inspirational captain fantastic, Chris Millar.  Further additions to the QUB squad could well be made yet.
So, roll on the new season. Why not take a look at the 30 second trailer available here: