League Chess, Back for 2008
Although the QUB Galacticos have to wait until January 30th for a return to league action, both Divisions 1 and 2 of the Belfast & District League are very much back in the swing of things already after the Christmas break. There are certainly no signs of the winter frost enveloping Division 1 especially, which is boiling up into potentially the most intriguing and hard-fought battle for the Silver King in many years.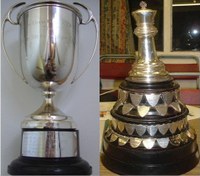 The John Strawbridge Cup and Silver King trophies
The league's December adjournment had seen the University men of QUB technically leading the way in Division 1's standings, while second-placed North Belfast held the highest percentage plus a game in hand.
In Division 2, it was Bangor side Winston - so often the supposed "B team" of Bangor Groomsport - that had been setting the pace quite impressively. Racking up 5 wins from 5, Kevin Agnew's seaside outfit have left fellow challengers RVH, Bombardier and Malone trailing some margin behind them.
However, it was Fisherwick Chess Club that last night hosted a Grand Slam Wednesday in Belfast League Chess across both Divisions. Current Division 1 champions Clifton House visited Fisherwick, while Malone entertained the RVH Hawks.
For a full report on events inside a packed Fisherwick Chess Hall, including video content, visit:
http://quis.qub.ac.uk/chess/qubb.htm#div1backfor2008
Those AC/DC fans amongst you should make a special effort to check it out.