QUB Clinch Consecutive 5-0 to Crush Clifton
As if to emphasise that last week's whitewashing of title rivals Fisherwick was by no means a fluke, QUB decided to pulverise second-placed Clifton House in identical fashion to storm further ahead at the summit of Division 1. Between them, Fisherwick and Clifton House have dominated the highest level of Ulster Chess since 2003. In the past two weeks, however, both have been completely blown away by Queen's and in as emphatic a fashion imaginable. Clifton House may be champions for the last 3 years, but the fresh-faced QUB are setting new standards which have left the best of the rest struggling to cope.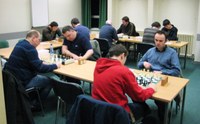 One move in and Clifton have no idea of the trouncing awaiting them
For this fixture, the QUB captain decided that improvement was needed after his side took almost the full 3 hours to complete their perfect score against Fisherwick. Replacing Trinitarian Rory Delaney on board 3 was QUB's latest acquisition - 1972 FIDE-rated Vlado Spiriak. One other alteration was made, with Millar deciding to rest himself (keen to avoid burning out his natural genius for the game through over use of it) to make way for Damien Lavery.
Clifton House, meanwhile, were as strong as ever. Morgan, Annesley, Pilkiewicz, Mallaghan and Moreland all lined up to face the QUB Galacticos. However, not even this and captain Mallaghan's re-jigging of their board order (with Morgan dropping to board 3) could rescue anything from what was to finish as an embarrassingly one-sided reverse.
For a full report with pics and video content: