Champions Clifton Claim League Opener
The Belfast & District League sprang back into life this week for the much-anticipated 2007/08 season, with the fixture list drawing together Division 1 Champions Clifton House and Division 2 winners Queen's University Belfast to kick-off another year of league chess.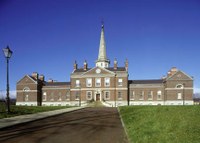 Clifton House
Clifton House begin their campaign maintaining last year's panel of talented players, strong enough to make them favourites to claim the Silver King for an incredible fourth consecutive season. If successful, Clifton would become the first side to do so since Fisherwick managed the feat in 1977.
QUB meanwhile, having produced a side strong enough to dominate Belfast League 2, are now looking to push on. With a considerably revamped squad, the University team will have to up their game if they are to best the likes of the current Division 1 Champions - not to mention Fisherwick, Lagan and North Belfast.
For a full report, including video, visit: