Strong Lagan lose to lucky Queen's
The Belfast Boat Club - or more specifically the smallest and most cramped room within it - provided the venue for what will quite possibly prove the most peculiar match Ulster League Chess succeeds in producing this season.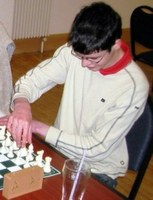 2 league wins in a row for Grzymek
Lagan hosted QUB and, just to make life more interesting for everybody, decided to field their strongest line-up so far this season. Jonathan Brown, Thomas Esmonde, Peter May, Wenceslao Torres and David Jackson were to be the side a QUB team of Steve Scannell, John Masterson, Damien Lavery, David Grzymek and Chris Millar had to overcome in order to keep the potency in their title chase.
Back in November QUB recorded a very comfortable 3.5-1.5 victory over Lagan, but it was clear from the naming of the two sides that this match held the potential for a very different story. This put the pressure on Queen's who desperately needed a win to keep the heat on the likes of Fisherwick and Clifton House.
Thus far Lagan have only avoided defeat against North Belfast, and the University men were going all-out to keep it that way for another week at least.
A full report on the game, alongside an updated league table, can be found here: