Queen's Crowned Kings of Ulster Chess
For their season's final league fixture, Queen's University travelled to North Belfast needing just a draw to secure the much-coveted Silver King and title of Ulster Club Champions 2007/08. Previous meetings between the two sides this season have produced a win a-piece for the teams from opposite ends of the city, so another even contest was anticipated.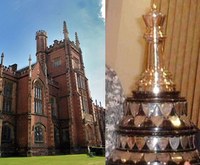 The Silver King is heading to QUB
Lining-up for the home side were David Houston (back from a two-game absence), Ulster under 19 top board Eamonn Walls, captain Stephen Wood and Bernard McCaughey. For the fifth time this season North Belfast were without a fifth player. Nevertheless, there was doubtless enough quality in this panel to upset the University men and their title charge.
The Galacticos were in pretty decent shape themselves for what they knew was their chance to clinch the Championship. From one-to-five QUB fielded Ulster and Belfast Champion Steve Scannell, Slovakian import Vlado Spiriak, Damien Lavery, David Grzymek and Calum Leitch. Leitch was disappointed to find out that not only was he to be without a game, but that the default win claimed wouldn't be considered to alter his 0% league record this season.
For a complete report on the evening's events, visit:
http://quis.qub.ac.uk/chess/qubb.htm#northbelfastvqub270308
Expect a full, blow-by-blow account of league action this year once all of this season's fixtures (in both Division 1 and 2) have been completed.