The Empire Strikes Back
The QUB Galacticos entered this season's final league showdown with rivals Fisherwick in mercurial form, recording perfect back-to-back 5-0 victories over this week's opponents and Clifton House.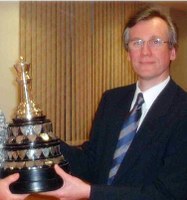 QUB or Fisherwick - to whom shall David McAlister be presenting the Silver King this time round?
Those two results, coupled with a draw between Fisherwick and Clifton, left Queen's comfortably ahead of the chasing pack. Clifton House, North Belfast and Lagan all seemed completely out of the title hunt going into this 10th round of the season's 12. However, Fisherwick knew that if they could win tonight's fixture then they would still be in the race. Anything other than a win for the Evil Empire this time though, and the Silver King was as good as QUB's.
Notably, for this encounter between the leading lights of south Belfast chess, QUB were without the Dublin Terminator, Karl McPhillips, while Fisherwick were nicely strengthened by the return of former Irish Champion, Ray Devenney, to board 3. A combination of familiar pairings across the boards, such as Waters v Scannell and Woodfield v Millar, well complemented by new match-ups, such as Cairns v Spiriak, all made for an intriguing night of Ulster League Chess.
For a full report, visit: