Steve Scannell claims Williamson Shield
"Chess Notes" from County Down Spectator, 29 Jan 2004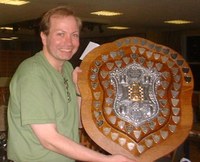 Steve Scannell wins spectacular Williamson Shield
Steve Scannell claims Williamson Shield
Chess's coveted Williamson Shield is 100 years old this year. Ulster's oldest open chess tournament attracted a strong field in both senior and junior sections. Steve Scannell (Bangor) in another exceptional performance scored 5.5 out of 6 to win the tournament convincingly from Michael Waters (Fisherwick), a full point behind in second place. Creditable performances from other Bangor players Damien Lavery, Mark Newman and James O'Fee.
Congratulations to youngster David Grzymek (Bangor), scoring a solid 2.5 points, for his spectacular win in the closing minutes of the tournament. David's elegant Queen mate against Fred MacDonald (North Belfast) stunned spectators as Fred's attack evaporated into the silence.
The junior section was won by Jack McCann (Dublin) followed by Alan Burns (CIYMS) and Richard Proctor (Bangor). Bangor's Richard Morrow also fared well.
Carnegie
Last Wednesday, Mark Newman's team travelled to take on Fisherwick again. Fisherwick are looking very strong since the start of the new year and Carnegie must have feared another serious defeat - a replay, or worse, of their 4.5 - 0.5 loss only two weeks ago. Eddie Whiteside, Mark Newman and James O'Fee were seriously out-matched on the top boards. However, bottom boards, Alan McConnell and Mark Seidman, both played excellent games to force draws against strong opposition. With a pair of draws, the team improve on their previous showing to claim a full point from the match. The result does not change much at the bottom of the league but evidently the team are gritting their teeth intent on battling to the bitter end; an awesome test of character.
Groomsport
Richard Proctor's team entertained the North Belfast side who defeated Carnegie 3-2 the week before. After Groomsport's dismal performance against Clifton House the previous week, the team were determined to make a comeback. North Belfast arrived without their usual top board David Houston so the match looked bright for Groomsport. Steve Scannell was matched against Adrian Skelton, the only player to take a draw off Steve in the recent Ulster Championship. Perhaps over-eager after last weeks loss, Steve pushed too hard for a win and instead over-reached his position letting Adrian claim the initiative and eventually the game.
Damien Lavery was outplayed on board 2. Board 4, Richard Proctor, got pushed into a complicated position and was beaten by the clock. Martin Rogers on bottom board claimed a blunder to lose the game. Only Albert McCarter on board 3 was able to force a defensive draw from a strong opponent. The team dropped 0.5 to 4.5 points, pulling Groomsport down in the league just above RVH and Carnegie. But RVH have a game in-hand and may soon leave the two Bangor teams to fight among themselves for the bottom slot.
Winston
Tuesday last, Winston travelled to Hillsborough. At last back to full strength, the team finally claimed their first bonus point since the start of the season. With every board agreeing a draw, captain Richard Morrow must be pleased with this result from Evan Bell, Ken Browne, David Symmington and Owen Wilson. Perhaps not the most exciting scores but good games from the lower boards in determined play and congratulations to Owen Wilson who claimed his first league result. The team gain 2.5 points plus the bonus to lift them off the bottom of the league.
Fixtures
This week all teams are back in action. Winston travel to Bombardier on Monday. The rest of the teams play at home on Thursday club night. Templar begin their second round challenge against Randalstown. Carnegie and Groomsport will be head to head against each other. Rumour has it, Carnegie smell victory and may bring in a surprise board 1 - just to make sure.
Next week all senior teams get a free week giving Carnegie and Groomsport some time to catch their breath ready for the final four matches of the season. Meanwhile Templar and Winston meet head to head; both teams desperately wanting a victory after their earlier drawn match.