Richard Morrow called-up for Ulster
"Chess Notes" from County Down Spectator, 22 Jan 2004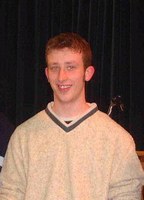 Richard Morrow called up for Ulster
Captain of Bangor Chess Club's Winston Team, Richard Morrow, has been selected to represent Ulster in the forthcoming schools' inter-provincial. This year, the quadrangular tournament will be held in Limerick over St. Valentine's weekend. Richard will play for the under-19 team against strong competition from Leinster, Munster and Connaught schools. Last year, Leinster were convincing winners; lets hope Richard and his friends will make an impression for Ulster (and Bangor) chess.
Match Results
Carnegie
Mark Newman's team faced a strong North Belfast team on Thursday. James O'Fee claimed the first point with an excellent win on board 3. Eddie Whiteside and Mark Newman battled determinedly on top boards but both conceded defeat to the clock. Alan McConnell reached the end-game with a pawn advantage but let it slip away settling for a draw. In the last game to finish, Mark Seidman looked in serious trouble 3 pawns down but sound end-game play from Mark forced a good draw. Overall a good result for the team gaining 2 points against opponents coming back into form.
At the half-way point in the league season, despite reasonable, consistent play, bonus points have eluded the team. With other teams rapidly leaving them behind, Carnegie remain solidly at the bottom of the league.
Groomsport
Disaster struck last week when Groomsport travelled to league leaders Clifton House. Missing Ron Henderson on board 4, the team expected a tough match but not the drubbing they received. Steve Scannell was the first to fall; having secured a strong winning position Steve blundered a Rook to lose. Worse, Damien Lavery gave up his queen needlessly on board 2. Albert McCarter fared better but was on the wrong side of a Bishop end-game with a pawn down. Richard Proctor nearly stole a draw in his usual, aggressive style but graciously played into a mate when the draw was declined. Martin Rogers uncharacteristically blundered too from a winning position.
An ignominious whitewash for the team giving a 7 point boost to Clifton House who now look unstoppable at the top of Division 1. Groomsport are just about holding their own but with Fisherwick and North Belfast coming onto form, the rest of the season may be a battle with RVH to avoid relegation.
Winston
Last Monday, Winston travelled to Randalstown. Plagued with absentees, Richard Morrow's team have been slowly sinking down the league. On the other hand, Randalstown started the season dismally and have gradually improved their results. This was an important game for both teams.
Ken Browne stepped up on board 1 and with careful play was able to force a draw. Richard Morrow defended on board 2 accepting a drawish position. David Symmington opened with an excellent game to claim his first full point of the season. On board 4, Gary Johnson gained the advantage into a Rook end-game but missed the trade-off to give him the game, instead falling prey to White's counter. Owen Wilson struggled to find his way through the middle-game conceding the game.
Disappointment for the team. Randalstown claim the bonus from their 3-2 win and jump ahead of Winston, now at the bottom of the league. However, only 3 points separate the teams in the bottom half of the league so there is plenty to play for as the league approaches its half-way mark.
Templar
With their intense 3 match competition last week, Templar take a break before the turn into the final half of the season. Their win at RVH has maintained the team's second place slot but as other teams finish their first round matches, Templar will likely slip to 4th place lagging by only a couple of points. This is the team's first season, and if they can build on their experience from their first 8 matches, they are still within reach of top place after Fisherwick.
This Week's Fixtures
Winston travelled to Hillsborough on Tuesday for another crunch match. Carnegie replay their match with Fisherwick on Wednesday, this time in Belfast. North Belfast return again to Bangor, this time to play Groomsport.
Next Weeks Fixtures
Winston travel to Bombardier on Monday. Groomsport and Carnegie battle each other on Thursday's club night. Templar start their second round matches, entertaining Randalstown on Thursday.