Chess Corner
#11 "Rookie": Irish News 13th July 1983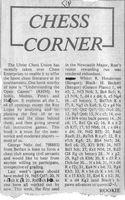 The Ulster Chess Union has recently taken over Chess Enterprises to enable it to offer the latest chess literature at its tournaments. One book worthy of note is "Undterstanding the Open Games" (RHM) by Soltis, Mednis, Peters and Hartson. It explores all the 1,e4 e5 opensings except the Ruy Lopez by analysing and explaining the first 10 or so moves and the ideas behind them, and then giving several full instructive games. This book is a must for the near-novice and moderate players - most of us.
George Nelis (tel. 798883) from Belfast is keen to form a chess club among civil servants and would like to hear from anyone willing to participate, irrespective of grading.
Last week's game should have ended 19. Nd5 Qd7 20. Nxe7+ Kg7 21. Rxh7+ 1-0, as you have all worked out by now.
This week, the first seed in the Newcastle Major, Ron's recent rewarding run was rendered redundant.
Media