Richard Proctor Awarded Honorary Membership at Bangor
On Thursday 10th March, Bangor Chess Club presented Richard Proctor with a certificate for Honorary Lifetime Membership of the club.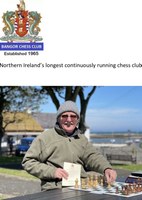 He received a big round of applause from the 22 players in the hall.
Two decades ago, when the Club was struggling to find premises, Richard secured Groomsport Parish Halls, the biggest chess venue for any club in Northern Ireland. He served as Club President for 9 years, steering the club in a positive direction and also winning many awards as a team captain in the Belfast & Chess District League.
During the 2021/2022 season, Richard injected fresh energy into the club by enrolling his 3 grandsons as members of Bangor - Caleb (14), Jacob (12) and Reuben (9). Their youthful enthusiasm is matched only by Richard's own perpetual optimism and pure passion for the game of chess.
A wonderful and kind gentleman, all the members salute Richard for his boundless energy poured into our local chess scene. Richard Proctor will always be held in the highest esteem at Bangor Chess Club.
Richard is now the 8th to receive such an honour.
8. Richard Proctor (10 March 2022)
7. Mark Seidman (25 February 2022)
6. Mark Newman (7 December 2021)
5. Tony Beckett (11 September 2021)
4. Ron Henderson RIP (2 November 2019)
3. Martin Rogers (5 October 2019)
2. Michael Sheerin (4 April 2019)
1. Brendan Jamison (4 April 2019)