Strand win the League - Division 1!
Full results of the league to follow once Division 2 concludes.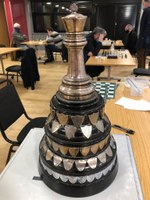 Strand Chess Club sealed their victory on Wednesday evening with a hard-fought battle against Civil Service. Despite losing the match itself 3-2, it was still enough to win outright.
Huge congratulations!
Full results for both divisions will follow once the 2nd division finishes.