Bangor marks the end of the Season
Bangor Chess Club held a mini rapid and its annual awards ceremony on Thursday 28th April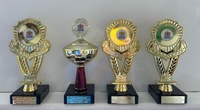 Club arbiter, Rebecca McClurg ran the Bangor April Rapid, a free event on the last night of the season. 14 players battled it out across 4 rounds at a time control of 20+0. With 4 female players in the tournament, it was super competitive to clinch a medal!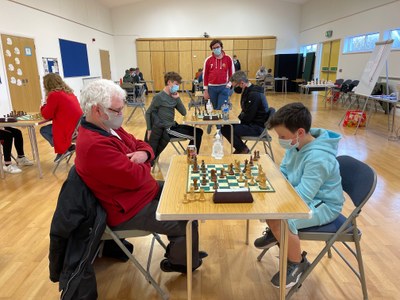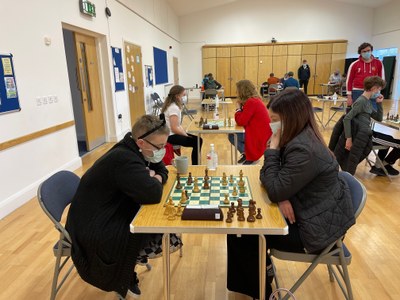 Congratulations to 14 year old Leah Worbey, crowned Femal Champion with an excellent score of 3/4 and TPR of 1238. Her mum Jennifer sealed 2nd place, taking the silver home with 2/4 and a TPR of 1158. Rebecca McClurg won the bronze with 2/4 and a TPR of 1100.
Overall, the champion, Brendan Jamison, scored 4/4 and a TPR of 1945. In second place, Tony Scullion won the bronze medal with 3/4 and a TPR of 1347.  In third place, Riyan Wood won the bronze medal with 3/4 and a TPR of 1347. Richard McClean also finished with the great score of 3/4 and a TPR of 1343 but just missed out on an award after tie-break.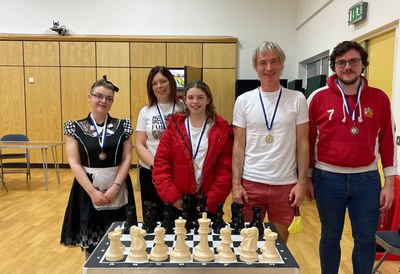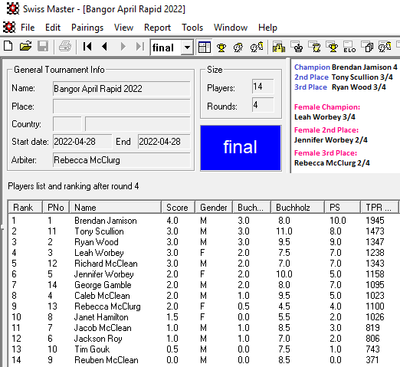 Everyone enjoyed the tournament and are looking forward to the next event, Saturday 3rd September - the Bangor Congress, which will make a welcome return after a 3 year break. It will be 6 rounds of 30+0 and the club will apply to have it FIDE rated as well as UCU rated. Entry fee is £12 payable in advance. The event will be limited to 30 players so best to register early to avoid disappointment as the last Bangor Congress attracted 50 players. Entries via bangorchessclubni@gmail.com
On the same evening, Bangor Chess club ended its season with the annual awards ceremony. Club officials presented the 5 trophies to newcomers of merit over the past season.
9 year old Reuben McClean won 'Best New Child Player', his 12 year old brother Jacob, was awarded 'Best New Young Player' and his 14 year old brother Caleb, earned the shield for 'Most Improved Player of the Season'. 14 year old Tim Gouk won the trophy for 'Best Openings Improvement' and Louis McKnight was awarded 'Best Newcomer 2022'.
Newcomers are always very welcome at the club, with all ages from 8 upwards. Annual membership costs £30 per season with a discounted rate of £10 per season for students, unwaged and under 18s. The club runs on Thursday nights at Groomsport Parish Halls, from the start of September to the end of April, 7:30pm to 10:30pm, with children leaving at 9:30pm.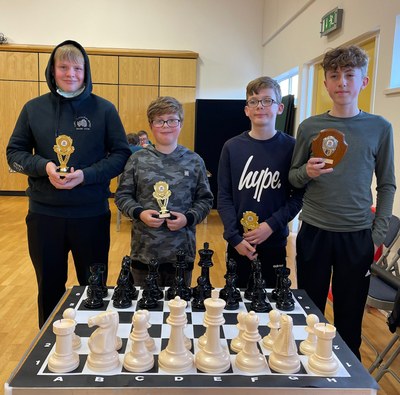 Left to right: Tim Gouk, Reuben McClean, Jacob McClean and Caleb McClean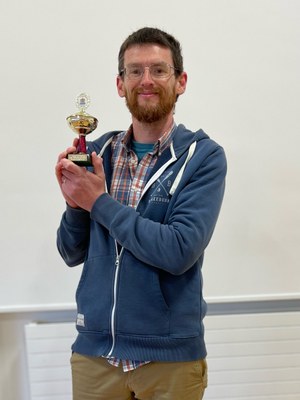 Louise McKnight with his 'Best Newcomer' trophy.