Tournament Report - Holywood Blitz Championship 2022
On Tuesday 15 February, during school midterm break, 18 players gathered for the 2022 Holywood Blitz Championship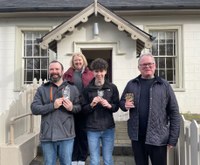 Prize Winners
Set in the historic Holywood Old School, a listed building from the 1800s, the morning saw a beautiful mix of all ages, from primary school children such a Lorcan Rippon and Blake Harris, to teenagers Timothy Gouk, Caleb McClean, Peter Murphy, Andrew Campbell, Dexter Harris and Calum Glendinning.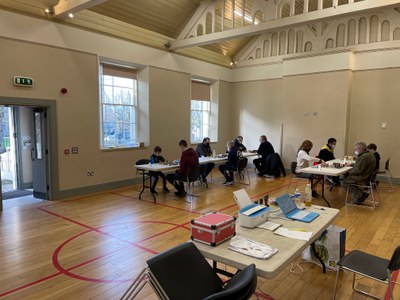 Holywood Club Director, Heather Lowry was joined by club regulars Janet Hamilton and Paul O'Connor and offered a warm welcome to all the visitors from other clubs - Greenisland, North Belfast, Civil Service, Lisburn, Strand and Bangor.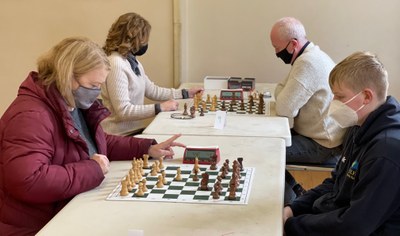 After six fiercely competitive rounds of 5+0, Danny Roberts was crowned champion with 5.5/6, closely followed by Dexter Harris on 5/6 and dad Ross took 3rd with 4.5/6. Heather congratulated the winners and welcomed everyone back for future events at the club.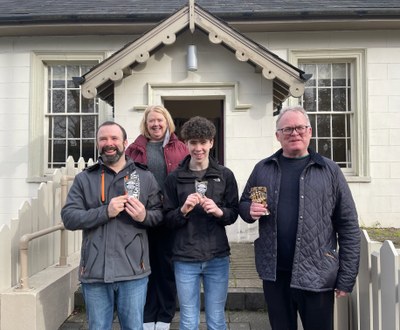 Full tournament results: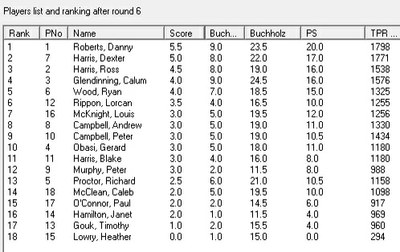 Upcoming events in North Down at a glance, please note face coverings are compulsory at all these events:
Thursday 17 February
- Groomsport Blitz Championship
7:30pm to 10:30pm. £6 entry fee. Six rounds of 10+0. EVENT FULL
Tuesday 22 February
- Holywood Rapid Championship. £3 entry fee. 9:45am to 11:45am. Registration deadline: 21/03/2022
Thursday 24 February
- Bangor Winter Rapid (mini competition for non-league playing club members - match on same night) 7:30pm to 10:30pm. Six rounds of 12+0. Registration deadline: 17/03/2022
Thursday 10 March
- Bangor Spring Blitz Championship. £6 entry fee. 7:30pm to 10:30pm. Six rounds of 10+0. Registration deadline: 03/03/2022
Thursday 17 March
- Bangor St. Patrick's Day Rapid. £6 entry fee. 7:30pm to 10:30pm. Six rounds of 12+0
Registration deadline: 10/03/2022
Please note the events at Holywood and Bangor Chess Clubs are usually oversubscribed so early booking is advised. Please send entry fee payments in advance to avoid handling cash on the day. Once payment is received, a player's place in the competition will be confirmed. Entries to bangorchessclubni@gmail.com