Ards Blitz Championship Tournament Report
Ards hosted a Blitz Championship on Saturday 21st May 2022 and we have the results.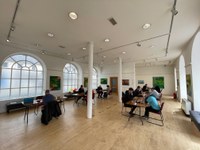 Players enjoyed the beautiful surroundings of the Georgian Gallery at Ards Arts Centre.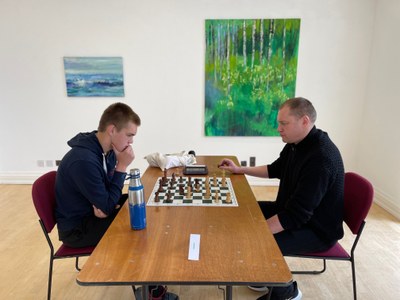 Played over 6 rounds of 10+0, the FIDE-rated event attracted many of the local Ards players (Gary Johnston, George Gamble, Geoff Strerrett and Adam Rushe), joined by Bangor players Richard Morrow and Gary Zachary. Further afield, Modestas Razbadauskas travelled from Lisburn, Joe Gunning and Matthew Dougherty from Belfast and Calum Glendinning from Holywood.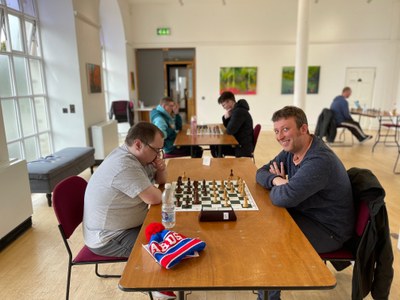 Ending undefeated with 5.5/6, speed chess supremo Modestas Razbadauskas was crowned champion, drawing only one game, the final round clash with Richard Morrow. Meanwhile Calum Glendinning and Matthew Dougherty both ended with an impressive 4.5 points, taking silver and bronze medals respectively.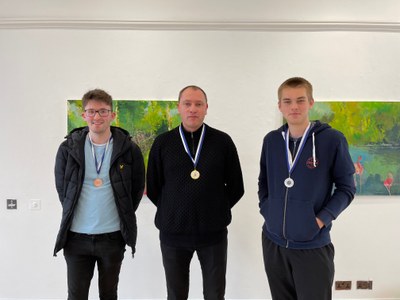 Chess equipment was supplied by Bangor Chess Club as an outreach initiative to constantly bring chess to new places.
Next weekend sees the Newry Chess Festival, a 3 day extravaganza with 4 events in total. It begins on Friday 27th May with a simul, then the FIDE rated U1800 Newry Classic begins later that evening and runs all day Saturday. On Sunday, a 12 round FIDE rated blitz is followed by an evening bullet competition. There are currently only a couple of places left. See UCU website event section for details if you are keen.