Groomsport Classic - Tournament Report
The tournament was held across two days and was very competitive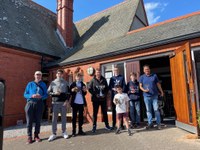 38 players took part in Bangor's biggest event of the season, the Groomsport Classic. With a time control of 60+0, it was played over two days, the competition saw two back-to-back rounds on Thursday 21st, followed by three rounds on Saturday 23rd April.
The seaside village attracted a wonderful bunch of chess enthusiasts, with lots of friendly banter and post-game analysis to help players improve.
Congratulations to the nice prize-winners.
Champion:Richard Morrow 4.5 / 5
2nd Edward Zhanzharov 4.5 / 5
3rd  James O'Fee  4 / 5
Intermediate Champion: Ethan Cole (age 9) 4 / 5
Intermediate 2nd Ranjit Singh 3 / 5
Intermediate 3rd Pat McKillen 3 / 5
Junior Champion: Calvin Patterson (age 14) 4 / 5
Junior 2nd Andrew Campbell (age 15) 3 / 5
Junior 3rd Caleb McClean (age 14) 3 / 5
A special shield was also presented to Caleb McClean as 'Most Improved Bangor Player of the Season'
Left to right: Prize-winners: James O'Fee, Eddie Khanzharov, Caleb McClean, Richard Morrow, Andrew Campbell, Ethan Cole, Calvin Patterson and Ranjit Singh.