Outdoor Autumn Blitz Chess Championship at Stormont Estate, Belfast
Another brilliant outdoor event was held on Saturday morning 19th Sept. 2020. Report by Tournament Organiser Brendan Jamison, National Arbiter.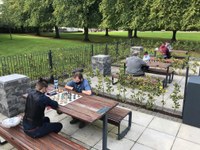 Playing outdoor chess with face coverings, gloves and social distancing between boards is actually much safer than sitting indoors in a cafe or restaurant (as the virus can remain airborne for several hours in a warm room without proper ventilation). Unsurprisingly, the momentum has been building for chess in the fresh air and this week's event saw places get snapped up at lightning speed!
While more than 15 attendees are allowed at outdoor sporting events, this tournament was originally planned for just 14 players and the arbiter. After more players were itching to play and with a capacity of 10 picnic tables, we allowed 20 entrants, split into two groups, with 8 competing in the Stormont Blitz as an all-play-all, the other 12 competed in the Play Park Blitz. The two groups were kept as separate bubbles so each participant only interacted with the other players in their own group. UCU Arbiter Evan Elwood assisted with the 12 in the Play Park Blitz, separated at lower ground level from the other group competing in the Stormont Blitz, assisted by Eddie Hanzharov.
Everyone wore face coverings and gloves. Entry fees were paid in cash and all coins and notes were immediately disinfected with Dettol wipes. All the boards were 2 metres apart with just one chess set per picnic table.
The format was 7 rounds of 7+7. The 7 second increment was in place to help players avoid losing on time, with a 40 move game lasting about 24 minutes. The event was rated by the Ulster Chess Union (UCU) and will appear when the next rating list is published.
We welcomed a very friendly young player to our chess community, Maikel Podean, who recently moved to Belfast from The Netherlands. He enjoyed mixing with the local players and is looking forward to more upcoming events.
Entrants with their UCU blitz ratings:
Stormont Blitz:
1.Alex Goss 1923
2.Robbie Wright 1913
3.Danny Roberts 1727
4.Gareth Annesley 1665
5.Matthew Dougherty 1532
6.Gatis Barbals 1444
7.Adam Rushe 1438
8.Edward Hanzharov 1417
Play Park Blitz:
1.Brendan Jamison (Arbiter) [Played rounds 1-3 to balance numbers]
2.Andrew Todd 1379
3.Maikel Podean 1372
4.Jamie Corscadden 1316
5.Mark Newman 1287
6.Evan Elwood 1273
7.Tony Scullion 1262
8.Aaron Wafflart 1252
9.Tim Morrison 1165
10.Geoff Sterrett 1103
11.Calum Glendinning 1059
12.Ethan Cole 939
Trophies were awarded for 1st, 2nd and 3rd in each group. Congratulations to the following 8 prize-winners:
Stormont Blitz Champion: Robbie Wright 5/7
2nd: Gareth Annesley (5/7)
3rd: Gatis Barbals (4.5/7)
Play Park Blitz Champion: Andrew Todd 6.5/7
Second: Aaron Wafflart 5/7
Third: Mark Newman 4/7
Silver Medal for Most Improved Teenager: Calum Glendinning 3/7
Bronze Medal for Most Improved Child Player: Ethan Cole 3/7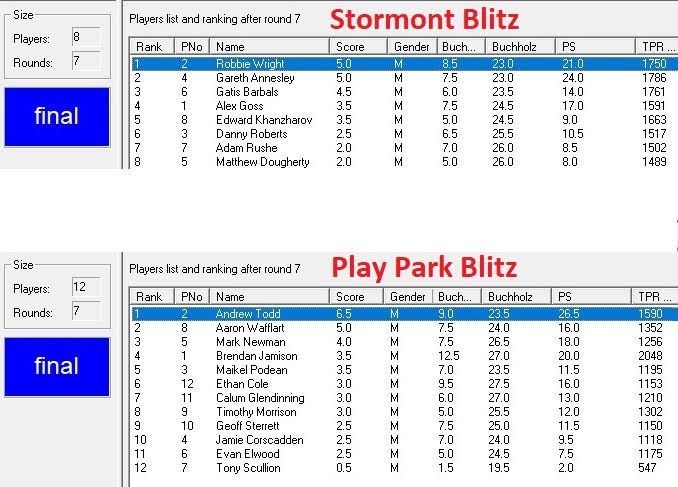 It has been a great experience running the 3 outdoor chess events during the month of September. The aim was to create a safe and fun environment for our chess community. It definitely created a buzz and all the feedback has been brilliant. Fresh air, sunshine and chess are a wonderful combination. It may feel like a long Winter without over-the-board leagues and tournaments this season but hopefully outdoor chess can return again in the Spring. We'll keep our fingers crossed that other organisers and arbiters will be inspired to try chess in the open air. In the meantime, take care and stay safe everyone.