Chess NI Youth Championships 2021
On Saturday 20th February 2021 young players aged 8 - 24 played in the NI Youth Chess Championships.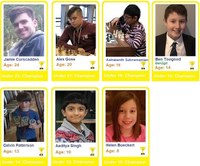 34 players aged between 8-24 competed in the Youth Chess Championships on Saturday 20 February. Congratulations to the 7 champions from each age band:
Under 25 Champion: Jamie Corscadden (24)
Under 21 Champion: Alex Goss (20)
Under 18 Champion: Ashwanth Subramanian (16)
Under 16 Champion: Ben Toogood (14)
Under 14 Champion: Calvin Patterson (13)
Under 12 Champion: Aaditya Singh (10)
Under 10 Champion: Helen Bueckert (8)
It was great to see a good mix of ages and abilities at this event. We had many newcomers including 3 from the Maxwell family - Jonathan (14), Benjamin (12) and Katy (11). Very well done to Jonathan Maxwell for winning joint 3rd in the Under 16 with Joseph Boyd (14), both pupils at Carrick Grammar. Other fresh faces were Conan McGuinness (13) and his younger brother Nathan McGuinness (10) who took 3rd place in the U12 section.
Darragh McKane (19) flew the flag for Omagh Chess Club, scooping 2nd place in the Under 21 age band, while James Wong (18) lifted 3rd place. The Under 25 band saw Matthew Dougherty (22) of QUB win 2nd place and Jake Patterson (22) took 3rd.
16 year old Ashwanth Subramanian from Methodist College Belfast was the overall winner of the tournament as well as taking the U18 title. In the same age band, Oisin O'Cuilleanain (16) and Daniil Zelenchuk (17) finished in 2nd and 3rd place respectfully.
Other notable prize-winners included Calum Glendinning(U16 - 2nd Place), Taufik Kamal (U14 - 2nd Place),  Eoin Boyle (U14 - 3rd Place), Cian Suitor (U12 - 2nd Place) and Ethan Cole (U10 - 2nd Place).