Aaron Wafflart wins Ulster Cyber Classic Friday 10 April 2020
40 players meet online to play in the Ulster Cyber Classic on Friday 10th April.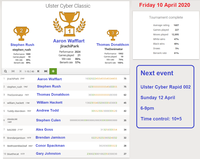 Congratulations to Aaron Wafflart for winning the Ulster Cyber Classic with an exceptional performance. Stephen Rush also finished on the same number points, but ranked 2nd on tie-breaks. Third place went to Thomas Donaldson. A total of 40 players competed over the six hours.
Games and full results : https://lichess.org/tournament/MdpzJeG7
The next and final online event of the season is this Sunday. It is a rapid from 6-9pm. Time control: 10+5. Password: royalfork. Link here: https://lichess.org/tournament/hGUSQfs5