Bangor Academy launches chess club
Science teacher and UCU chess player Mr Magee launches Chess Club at Bangor Academy. Brendan Jamison hands over Chess sets from the UCU to the Club on 12th September 2019.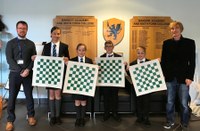 Science teacher Mr Magee (far left) has launched a school chess club at Bangor Academy. It will run every Wednesday at lunch-time in room C113 and is open to all pupils.
Last Thursday, Brendan Jamison  (far right) of the Ulster Chess Union delivered 7 new chess sets to Bangor Academy and pupils are looking forward to playing with them in the weeks ahead.
Brendan said "the Ulster Chess Union (UCU) is delighted to donate equipment to Bangor Academy.  Mr Magee is a former Ulster Junior Chess Champion which makes him the ideal teacher to run the club. The UCU is committed to youth development and actively encourages all schools to create a lunch-time club or after-school club."
The UCU runs monthly youth chess tournaments in Belfast which attracts school pupils from all across Northern Ireland. Bangor in particular has seen a recent rise in school children playing chess, with many now attending Bangor Chess Club after starting out in a school chess club.  New players of all abilities are always welcome at Bangor Chess Club which meets every Thursday at Groomsport Parish Halls from 7:30 to 11pm. It costs £5 a year for Under 18s and there are many tournaments and coaching sessions held throughout the year.
reporter: Brendan Jamison