North Belfast Handicap Rapidplay 2009
After the UCU Summer Tournament ends each year, it is customary to hold the prizegiving the following week alongside a rapidplay handicap tournament.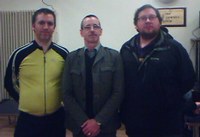 Prizewinners (l to r) Murphy, Holmes and Lavery
This year was no different and 20 players turned out at North Belfast Chess Club for a five round swiss. Total time on the clock in each game was 20 minutes with players handicapped according to the difference in their ratings, calculated on the Seaby scale.
Damien Lavery won his first four games and a draw in the final round against Michael Holmes (who had earlier dropped a half-point to Martin Kelly) was enough to secure overall victory. Holmes was joined on 4 points by Cathal Murphy, whose only loss came in the first round to Lavery.
Final standings
Place Name              Rtg  Score
  1   Damien Lavery     1721 4.5  
 2-3  Michael Holmes    2034 4    
      Cathal Murphy     1079 4    
  4   Stephen Scannell  2113 3.5  
 5-7  Eamonn Walls      1893 3    
      William Storey    1367 3    
      Ciaran Holmes     1377 3    
8-13  Martin Kelly      1443 2.5  
      Raymond Smith     1223 2.5  
      Craig Kelly       778  2.5  
      Karina Kruk       1483 2.5  
      Ian Woodfield     1660 2.5  
      Ron Henderson     1423 2.5  
14-15 John Monaghan     1082 2    
      Mark Newman       1791 2    
16-17 Alexander Beckett 1327 1.5  
      Peter Ratcliffe   940  1.5  
18-20 Geoff Hindley     996  1    
      David Seaby       1071 1    
      Sylwek Furman     1775 1   
Crosstable (players given in handicap order)
No  Name              Rtg  Total  1    2    3    4    5  
1.  Stephen Scannell  2113 3.5   11:W  8:D 15:W  2:L  9:W
2.  Michael Holmes    2034 4     12:W  9:D  7:W  1:W  6:D
3.  Eamonn Walls      1893 3     13:W 14:W  6:L 15:W 16:L
4.  Mark Newman       1791 2     14:L 13:W 16:L 12:L 17:W
5.  Sylwek Furman     1775 1     15:L 17:L 19:D 10:L 18:D
6.  Damien Lavery     1721 4.5   16:W 20:W  3:W  9:W  2:D
7.  Ian Woodfield     1660 2.5   17:W 15:L  2:L 13:D 19:W
8.  Karina Kruk       1483 2.5   18:W  1:D  9:L 20:W 11:L
9.  Martin Kelly      1443 2.5   19:W  2:D  8:W  6:L  1:L
10. Ron Henderson     1423 2.5   20:L 16:L 18:D  5:W 13:W
11. Ciaran Holmes     1377 3      1:L 18:W 20:L 17:W  8:W
12. William Storey    1367 3      2:L 19:W 14:L  4:W 15:W
13. Alexander Beckett 1327 1.5    3:L  4:L 17:W  7:D 10:L
14. Raymond Smith     1223 2.5    4:W  3:L 12:W 16:L 20:D
15. John Monaghan     1082 2      5:W  7:W  1:L  3:L 12:L
16. Cathal Murphy     1079 4      6:L 10:W  4:W 14:W  3:W
17. David Seaby       1071 1      7:L  5:W 13:L 11:L  4:L
18. Geoff Hindley     996  1      8:L 11:L 10:D 19:L  5:D
19. Peter Ratcliffe   940  1.5    9:L 12:L  5:D 18:W  7:L
20. Craig Kelly       778  2.5   10:W  6:L 11:W  8:L 14:D