Parlour April Blitz Report
QUB Chess brought its business back to The Parlour for another night of bar blitz. The lively south Belfast bar was the scene for a remarkable tournament which was sensationally only decided in the very last second of a play-off for first place. For the sizeable contingent of newcomers and the onlooking crowd this made for a great spectacle, for the regulars it will come as no surprise that the description tells the tale of a Steve "Metronome" Scannell win.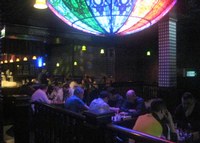 Perhaps it was the latest addition of table service to the Blitz package that helped encourage a particularly light-hearted atmosphere even for blitz standards. A batch of newbies were welcomed into the fold, friends enjoyed the drink offers together while Damien Lavery and Mark Newman were seen throwing shapes on the dance floor. In between ordering drinks, there was also time for 5 rounds of chess.
In the race for first place, most recent Blitz form suggested that the man to beat would be Eamonn Walls. He shared the point with Gareth Annesley in round 3, but came unstuck against QUB team mate Lukasz Kwiatek in round 4. Walls' was deposed of his Blitz King title inside 20 minutes of Kwiatek patience and accuracy.
Lukasz himself had already drawn with 8 times Ulster Champion Steve Scannell before that win over Eamonn, and then proceeded to smash Shane Keers to finish with 4.5 points from 5. But of course, that wasn't Lukasz finished. Scannell didn't let up after his sole draw either, going on to beat Annesley and Newman to setup an Armageddon style "winner takes all" playoff with the Pole.
For exactly 10 minutes and 59 seconds chess became a spectator sport as the crowd circled around Scannell and Kwiatek. In their earlier encounter Steve had given up a pawn for play, but this time the roles were reversed. Soon Lukasz was dominating and, as he built up an unassailable material advantage, the Pole seemed unstoppable. However, down the years Scannell has built a reputation of emerging from the tightest of corners. Once again he performed a miracle of metronomic precision – claiming victory when Lukasz's time reached zero while the American had one precious second to spare.
But the night was certainly also one for newcomers, with John Lawson, Dan Curran, Eddie McCaffrey, Chris McDonald, Nathan Carver and Michael McLarnon all débuting. In the prize for the best of the newbies, McDonald and McCaffrey also had to play-off after they each finished with 2.5/5. They had drawn earlier in the tournament, but this time Chris came out on top to get a slice of the prize money.
Third place went to Eamonn Walls, while Shane Keers and Pearse O'Brien handled their drink and punched above their weight to claim the under 1600 and under 1200 grading prizes.
All in all, another great Blitz in The Parlour. A huge thanks to Mark Newman, Andrew Wright and Eamonn Walls for their help in organising the event. Expect more of the same come June.
Video content of the event available here:
http://chess.club.qub.ac.uk/tourneys.htm#aprilblitz