North Belfast at the 1998 European Club Championships
The North Belfast Chess Team competed at the European Club Championships in Lubniewice, Poland 11th-13th September 1998. This report appeared originally in the 1997-1998 UCU Yearbook.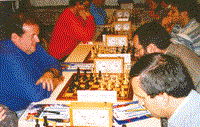 North Belfast v Gorzow 'B'
The North Belfast Chess Club by winning the All-Ireland Club Championships qualified to represent Ireland in the European Club. As luck would have it we were drawn to play in Poland, with very strong opposition from Poland, Estonia, Lithuania, Ukraine and Belgium.
Our hosts kindly arranged to collect us at the Polish-German Border, and drive sixty Kilometres to the venue in the quiet town of Lubniewice. The venue turned out to be a "workers camp" of the company of the main tournament sponsors Stilon. Which made for pleasant lakeside walks or strolls through the wooded countryside.

The town of Lubniewice was a short walk away, and it's many bars were to provide the night-time entertainment, and a slice of life in Poland.

In the first round we were paired against the host club, a daunting task as they out-rated all our boards by 600 points. Despite the lopsided result we played very well.
Round 1
Stilon Gorzow, Poland          North Belfast
GM Michal Krasenkow      1:0   Tom Clarke
GM Sergei Shipov         1:0   David Houston
GM Rustem Dautov         1:0   Stephen Scannell
GM Igor Khenkin          1:0   Adrian Skelton
IM Pawel Jaracz          1:0   David Blair
IM Aleksander Czerwonski 1:0   Nicholas Pilkiewicz
The second round result was a disappointment, this was the team we felt we could beat before we came to the tournament, during the match the result was always in doubt but the Belgians greater experience told.
Round 2
Leuven, Belgium             North Belfast
IM Pieter Claesen     1:0   Tom Clarke
FM Jereon Claesen     1:0   David Houston
Chris van Hul         1:0   Stephen Scannell
Koen Bossuyt          1:0   Adrian Skelton
Eddy van Espen        1:0   David Blair
Freddy de Guchtenaere 1/2   Nicholas Pilkiewicz
Due to the non appearance of the Swedish and Croatian teams this left a bye for the last round, and our hosts Gorzow Chess Club arranged for us to play their B side, headed by two IMs, still a formidable side which we managed after a long struggle to beat.
Round 3
Stilon Gorzow B, Poland        North Belfast
IM Jan Przewoznik        1:0   Tom Clarke
IM Aleksander Czerwonski 1/2   David Houston
Olaf Michalski           0:1   Stephen Scannell
Jerzy Brok               1:0   Adrian Skelton
Joanna Wilminska         0:1   David Blair
Matueusz Bronowicki      0:1   Nicholas Pilkiewicz
The tournament was eventually won by the host club "Stilon Gorzow", who after a narrow 3.5:2.5 win in the semi-final against the all GM team from the Ukraine, went on to beat the Estonian team Parnu by a similar score after a titanic struggle.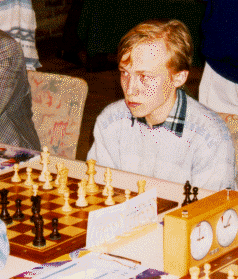 The members of the team would like to thank all the members of the Chess Club, the Ulster Chess Union, St Malachy's Old Boys Association and especially Jack Kennedy, Elizabeth Blair and Helen Scannell without whose invaluable assistance this trip would not be possible.