Bangor Team Rapidplay Championship Report
On Thursday 7th April, 6 teams of 4 players battled it out across 3 rounds at a time control of 20+0
List of teams that took part:
Squad 1: Team Moore
1.1. Sam Moore 1401
1.2 Mike McKimm 1192
1.3. Ken Browne 1019
1.4 George Gamble 848
Squad 2: Team Morrow
2.1 Richard Morrow 1307
2.2 Sean Donaghy 1250p
2.3 Craig Kelly 1171
2.4 Alwyn Pollock 824
Squad 3: Team Proctor
3.1 Richard Proctor 1367
3.2 Caleb McClean 1200p
3.3 Jacob McClean 1000p
3.4 Reuben McClean 800p
Squad 4: Team Newman
4.1 Mark Newman 1583
4.2 Alan McBurney 1200p
4.3 Louis McKnight 1150p
4.4 Rebecca McClurg 861
Squad 5: Team Todd
5.1 Andrew Todd 1489
5.2 Jonny Brown 1445
5.3 Joshua Geary 1268
5.4 Samuel Todd 1215
Squad 6: Team Dorrian
6.1 Chris Dorrian 1392
6.2 Dylan Wylie 1200p
6.3 Karen Hennessey 1100p
6.4 Tim Gouk 800p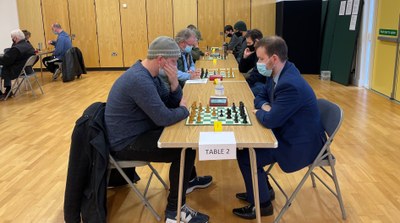 Congratulations to the champions, Team Todd, winning 10/12.
The stars of the team were Samuel Todd and Joshua Geary, both scoring 3/3. Meanwhile, Jonny Brown also remained undefeated with 2.5/3. Very well done to Captain Andrew Todd for leading his team to victory.
2nd place went to team Newman with 7.5/12. Mark Newman scored 2.5/3, followed by Louis McKnight and Rebecca McClurg, both winning 2 points each for the team. Alan McBurney also won a critical point for the team, ensuring the squad finished in second place.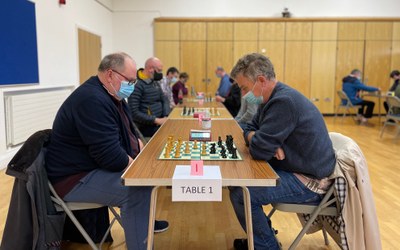 3rd place went to Sam Moore's team with 7/12, with his board 2, Mike McKimm delivering 2.5 points for the squad, followed by Ken Browne chalking up two victories and George Gamble scored a round 1 victory on Board 4.
The furthest team to travel to the event was from Greenisland, with Captain Chris Dorrian bringing two newcomers Dylan Wylie and Karen Hennessey, both enjoying the evening. The event also offered Richard Proctor the opportunity to have a 4 player family team with his 3 grandchildren, Caleb (14), Jacob (12) and Reuben (10).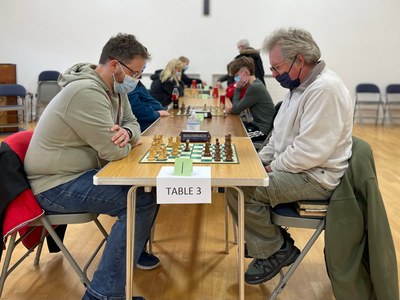 Players from the top 3 teams were awarded certificates.