Newry Rapidplay Report - February 2020
Ulster Rapidplay Chess Championships took place in Newry on February 1st 2020 kindly sponsored by Newry,Mourne and Down District Council.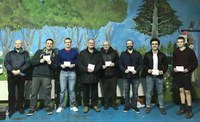 Article taken from http://www.chessni.co.uk/newry2020.html
Thanks to Brendan Jamison - also for organising and controlling such an excellent tournament.
NEWRY 2020
Kindly sponsored by
Newry, Mourne and Down District Council
ULSTER RAPIDPLAY CHESS CHAMPIONSHIPS
Sticky Fingers Arts Centre, Newry
Saturday 1 February 2020, 10:30am to 5:30pm
The 2020 Ulster Rapidplay Chess Championships were hosted by the Sticky Fingers Arts Centre in Newry. The cross-border event attracted 50 players from Dublin, Donegal, Omagh, Armagh, Larne, Lisburn, Bangor and all across Belfast. It was organised by the Ulster Chess Union in association with the Irish Chess Union. For the second year in a row, our Newry tournament was kindly sponsored by Newry, Mourne and Down District Council.
The event had two sections, both rated by FIDE, the International Chess Federation. 15 competed in the top section in a wonderful room that was painted like the interior of a castle! Meanwhile, the Intermediate players were surrounded by woods and fields in their brightly painted room that put a smile on everyone's face. We welcomed many newcomers to our local chess scene, with Anthony Gallagher (Newry), Joe Gunning (Belfast), Liam Fox (Omagh) and brothers Gerard and David Obasi (QUB) all making their tournament debut. And the event also welcomed back 14 year old Calum Glendinning who delivered an excellent performance to win the Under 1100 Grading Prize. Other notable youngsters on the rise in our chess scene are primary school children Blake Harris, Ethan Cole and Peter Wong, all of whom added lots of fun to the day in Newry.
Brendan Jamison and John Bradley received a round of applause at the prize-giving ceremony for their roles as arbiters. And the friendly and helpful staff at Sticky Fingers Arts Centre were also commended for helping make the day so successful. The Newry Reporter also arrived in again this year and took lots of photos so we expect great coverage in the next edition on Wednesday 5 February 2020.
Prize-winners:
2020 Ulster Rapidplay Champion: Danny Roberts (5/6) TPR = 2019
2nd Place: Steve Scannell (4.5/6) TPR = 1980
Under 1800 Grading Prize: Ross Harris (4/6) TPR = 1923
Under 1700 Grading Prize: Danny Mallaghan (3.5/6)
2020 Ulster Intermediate Rapidplay Champion (Under 1500): Pat McKillen (5.5/6) TPR = 1597
Intermediate 2nd Place: Aaron Wafflart (5/6) TPR = 1475
Intermediate 3rd Place: Vincent O'Brien (5/6) TPR = 1539
Under 1300 Grading Prize: Colin Keenan(4/6) TPR = 1347
Under 1100 Grading Prize: Calum Glendinning (3/6) TPR = 1195
Round 6: Foreground: Michael Wong (left) v Tony Redden. Background: Calum Glendinning (left) v Chris Dorrian
UCU President Ross Harris looks on as Daniil Zelenchuk (left) battles Steve Scannell
Foreground: Gatis Barbals (left) v Matthew Dougherty
Far board: Ross Harris (left) v Daniil Zelenchuk. Near board: Danny Roberts (right) duals wth Danny Mallaghan in Round 6
David Obasi (left) v Michael Wong
Intermediate Round 6. Near board: Eoin Boyle (left) v Adam Rushe. Board beside: Paul Anderson (left) v Dexter Harris.