CHESS: Current entry list for Newry: Sat 1 Feb 2020, 10:30am check-in
Ulster Rapidplay Chess Championships in Newry on Saturday 1 February. Both sections will be FIDE-rated. Sponsored by Newry, Mourne and Down District Council. The top Rapidplay tournament in Ulster. At the Sticky Fingers Arts Centre, The Imaginarium, Newry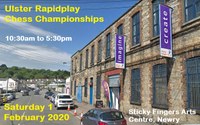 Hi Chess Players,
Here is the current entry list for the Ulster Rapidplay Chess Championships in Newry on Saturday 1 February. Both sections will be FIDE-rated. The event is open to players from all across Ireland i.e. Irish Chess Union members may compete without being UCU members. £5 for children, teenagers and students. £10 for adults.
Check-in from 10:30am to 10:45am. Players to be seated at 10:55am. Round 1 begins at 11am. Prize-giving is 5:20pm to 5:30pm.
Drop me an email or text if you'd like to be included. We have players of all abilities coming along and we always welcome newcomers.
It takes 55 minutes to get to Newry on the Enterprise train from Lanyon Place (formerly known as Belfast Central). I can also try to get lifts sorted for folks travelling from Belfast so we can have 3 or 4 travelling in each car.
Best wishes,
Brendan Jamison
Ulster Chess Union Tournament Director & League Controller
SENIOR SECTION:
Scannell, Steve 2148
Hill, David 1860
Zelenchuk, Daniil 1823
Harris, Ross 1729
Barbals, Gatis 1695
McKenna, John 1652
Dougherty, Matthew 1518
INTERMEDIATE SECTION (Under 1500)
Dorrian, Christopher 1488
Cullen, Stephen 1449
Dornford-Smith, Adrian 1391
O'Brien, Vincent 1383
Wesolowski, Andrzej 1367
Gilmore, Adrian 1356
Redden, Tony 1290
Keenan, Colin 1266
Wafflart, Aaron 1214
Largey, Paddy 1200
Anderson, Paul 1106
Harris, Dexter 1106
Fox, Liam 1100
White, James 1100
White, Anthony 1012
Johnston, Tom 1008
O'Gallagher, Anthony 1000
Boyle, Eoin 920
Cole, Ethan 914
Hill, Daniel 869
Tournament info page: