Sveshnikov Sizzles as Bangor Players Hunger for Opening Theory
Bangor Club continues to give the Ulster Chess World top events. With brilliant opening talk by Danny Robert.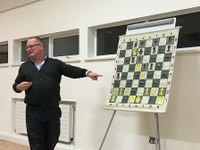 Article by our intrepid report Brendan Jamison... On Thursday 27 February, Bangor Chess Club was buzzing with excitement during the outstanding lecture on the Sicilian Sveshnikov by Danny Roberts. The talk introduced us to many new ideas and left us hungry to explore more of the opening back at home. Paul Anderson, who had travelled down from Belfast, said how he loved Danny's pet line of the Bishop sacrifice on b5 to get double Knights bearing down on c7. Overall feedback was excellent. It was agreed the talk was incredibly stimulating. A giant thank you was issued to Danny as he received a big round of applause for his infectious enthusiasm for chess theory.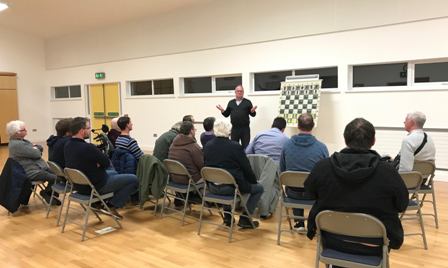 Meanwhile, before the lecture, a 6 round mini blitz entertained the Groomsport regulars.
Champion: Michael Sheerin 5.5/6
2nd Place: Gary Johnston 4.5/6
3rd Place: Christopher Dorrian 4/6
Best Teenager: Ben Toogood
Best Newcomer: Geoff Sterrett
Next week sees the last FIDE-rated blitz of the season at 7:45pm to 10:30pm on Thursday 5th March at Bangor Chess Club. £2 entry for non-members of Bangor Chess Club. All players need to register with National Arbiter Brendan Jamison by 12 noon on Tuesday 3rd March.