Week 12 and the second week of face to face Chess at the Summer 2021 tournament
We had more players registering this week with a total of 10 players playing in beautiful sunshine on the balcony of the Pavilion. How better could you spent Weds 21st July 2021.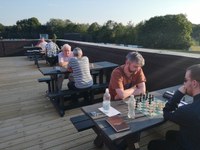 Adrian and myself in fact mainly Adrian setup the sets (I had left my phone in the car) in the room. We  had 5 tables safely separated and 5 sets. But I saw the window and heypresto it was a beautiful evening and even better the balcony had enough tables for 5 games. So quickly Adrian and myself with the help of players who had arrived moved the boards outside.
A beautful evening, playing a beautful game - just heaven - a fantastic way of escaping from the worries and stresses of life.
I even got a game against Conor Spackman. I blundered a Knight in the opening - but got developed and Conor had a Knight and Rook that were slow to get into the game so I played on and hoped to get an attack whilst I had time and development advantage. Unfortunately Conor saw through all my little traps and played brilliantly. I may have pushed in the centre too early and given back some play to Conor. But he deservedly won - a good game with plenty of action and things to concentrate on.
If players wish to play in the Summer 2021 tournament then play register with Mark Newman mark.chris.newman@googlemail.com before :3:00pm on the weds of the event. and once registered then attend at 6:45pm at the Civil Service Pavilion. More details: https://www.ulsterchess.org/Members/ucu00450/summer-tournament-2021/the-summer-tournament-2021-week-13
The results of the evening.
week12
White
Result
Black
1565
Conor Spackman
1 - 0
Mark Newman
1370
Andrew Todd
0 - 1
Richard Gould
1200
Joseph Gunning
0 - 1
Bobby Thompson
1000
Calum Glendinning
0 - 1
Adrian Dornford-Smith
1000
Cónal Boyle
1- 0
Colm O'Brian