Norman McFarland has passed away
It is with sadness that we have lost a keen chess player and friend. Norman McFarland has passed away.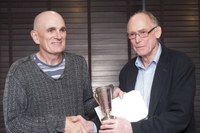 Norman McFarland Ulster Intermediate Champion
Norman (left) being presented the Intermediate Ulster Championship Trophy by Geoff Hindley 2014.
"Norman was a member of our club since Fisherwick days and was a great chessplayer, but more, a great man. He won the Board 4 prize last season but I never got the chance to present it to him. He always gave me a lift home to the New Lodge Road on his way home to Tiger's Bay and we had many an interesting chat on the way. He will be sorely missed and condolences to his family and many friends." Martin Kelly.
The funeral service is at Roselawn Crematorium on March 16: 10:30am
https://www.funeraltimes.com/normanmcfarland37382554