2020 Irish Junior Chess Championships Postponed
Dear chess players, chess parents and the wider chess community, I am very sorry we have had to postpone this year's Irish Juniors. Please see today's statement below from the Irish Chess Union. We promise to hold the event later in the year when it's safe for all the players and their families. Best wishes, Brendan Jamison Ulster Chess Union Tournament Director & League Controller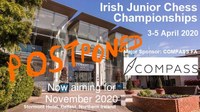 2020 Irish Junior Chess Championships Postponed
Following the Irish government's recent recommendation that indoor gatherings of more than 100 people be cancelled, the Irish Chess Union and Ulster Chess Union have taken the decision to postpone the 2020 Irish Junior Chess Championships, which were to be held in Belfast on 3rd - 5th April.
This was not a decision taken lightly, however, it was felt that the health and safety of our players and their attending family members could be compromised if the championships were to continue on the original date. The event is provisionally rescheduled for 13th - 15th November 2020.
Current entry fees will automatically roll over to the rescheduled event in November, however, a full refund is available upon request.
All further relevant information regarding this matter will follow in due course.