Ulster Chess and Bangor Club lose a much beloved and highly respected member.
Ron Henderson passed from this life on Christmas day. Ron was a friend to many in the Ulster Chess World. Many players enjoyed his company and love of the game. Ken Browne remembers his friend, Ron "A gentleman and a scholar".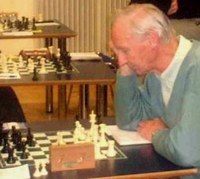 RON  HENDERSON
The Chess World has lost one of its foremost ambassadors for the game. Not only was Ron a formidable opponent who had a genuine love for the game but he was a real gentleman who inspired enthusiasm in others. I played many 'friendly' games with Ron in the Bangor club and I use the word 'friendly' in its truest sense. In the rare instance where I achieved a win, he was generous in his praise for my play. I still have a written record of one of his 1997 games for the Bangor 'A' team (recorded in Brendan Jamison's booklet of The Bangor Club 1996/97) in which he defeated Tom Clarke, then graded 2162. Despite Ron being then graded some 650 points less, he achieved a superb victory which has much educational value. A masterpiece -  from which many could learn.
I can honestly say that the phrase 'A gentleman and a scholar' is most apt  in this case, as Ron can be seen as a role model for all younger players.
Ken Browne.   Feb.2021.