Bangor FIDE-rated Halloween Blitz 2019
Bangor is probably the most active club holding brilliant events with coaching and tournaments. These continue with the spooky Halloween Blitz. 31st October 2019.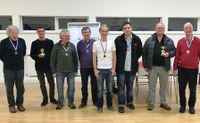 The next event at Bangor:
Groomsport Blitz 2019 - FIDE RATED Thursday 28th November 7:45pm to 10:45pm
Tonights event was the FIDE RATED Halloween Blitz 2019
Bangor Chess Club, Groomsport Parish Halls
Chief Arbiter: Brendan Jamison
23 entrants. 1 open section. 7 rounds. Time control: 10+0
Champion: Danny Roberts (5.5/7)
2nd Place: Brendan Jamison (5/7)
3rd Place: Michael Sheerin (5/7)
Intermediate Champion: Alan McConnell
Intermediate 2nd: James O'Fee
Intermediate 3rd: Richard ProctorRichard Proctor
Junior Champion: Geoff Sterrett
Junior 2nd: Alwyn Pollock
Junior 3rd: Owen Wilson
The final scoreboard.
| | | | | | | | |
| --- | --- | --- | --- | --- | --- | --- | --- |
| rank | Competitor | played | wins | draws | losses | points | % |
| 1 | Danny Roberts (NICS) | 7 | 4 | 3 | 0 | 5.5 | 79 |
| 2 | Pat Coleman (Lisburn) | 7 | 5 | 0 | 2 | 5 | 71 |
| 3 | Brendan Jamison (Strand) | 7 | 4 | 2 | 1 | 5 | 71 |
| 4 | Michael Sheerin (Lisburn) | 7 | 4 | 2 | 1 | 5 | 71 |
| 5 | Alan McConnell (Bangor) | 7 | 3 | 3 | 1 | 4.5 | 64 |
| 6 | James O'Fee (Bangor) | 7 | 4 | 1 | 2 | 4.5 | 64 |
| 7 | Adam Rushe (Strand) | 7 | 3 | 3 | 1 | 4.5 | 64 |
| 8 | Chris Dorrian (Bangor) | 7 | 4 | 0 | 3 | 4 | 57 |
| 9 | Richard Proctor (Bangor) | 7 | 4 | 0 | 3 | 4 | 57 |
| 10 | Conor Spackman (Strand) | 7 | 4 | 0 | 3 | 4 | 57 |
| 11 | Gatis Barbals (Fruithill) | 7 | 3 | 1 | 3 | 3.5 | 50 |
| 12 | Adrian Dornford-Smith (NICS) | 7 | 3 | 0 | 4 | 3 | 43 |
| 13 | Gary Johnston (Bangor) | 7 | 3 | 0 | 4 | 3 | 43 |
| 14 | Alwyn Pollock (Bangor) | 7 | 3 | 0 | 4 | 3 | 43 |
| 15 | Ciaran Rowan (Strand) | 7 | 3 | 0 | 4 | 3 | 43 |
| 16 | Geoff Sterrett (Bangor) | 7 | 3 | 0 | 4 | 3 | 43 |
| 17 | Owen Wilson (Bangor) | 7 | 3 | 0 | 4 | 3 | 43 |
| 18 | James Wong (Strand) | 7 | 3 | 0 | 4 | 3 | 43 |
| 19 | Sam Bowman (Bangor) | 7 | 2 | 0 | 5 | 2 | 29 |
| 20 | Mark Newman (NICS) | 7 | 2 | 0 | 5 | 2 | 29 |
| 21 | Mark Seidman (Bangor) | 7 | 2 | 0 | 5 | 2 | 29 |
| 22 | George Gamble (Bangor) | 7 | 1 | 0 | 6 | 1 | 14 |
| 23 | Chris McClean (Bangor) | 7 | 0 | 0 | 7 | 0 | 0 |
For full results click here: https://www.ulsterchess.org/competitions/competitions/comp-3244/cvt_event/standings/597#tabhead
Some photos of the event: