Breaking news: Strand 2 win Division 2
Strand were chasing Belfast South in what looked like an impossible mission.... but....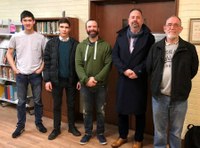 hot off the press from - Brendan Jamison on 19th Feb. - "In tonight's epic crunch match between Belfast South and Strand 2, both teams entered the final round in 1st and 2nd place respectively. However, league leaders Belfast South fell at the last hurdle, defeated by 4 -1 by Strand 2.
Graeme McCormick drew on Board 1 with Ross Harris and Chris Armstrong drew on Board 3 against Conor Spackman. The rest of the games were wins for the East Belfast side, with victories by John Bradley on 2, Eddie Khanzharov on 4 and James Wong on 5."
Final Div 2 table:
Strand 2 = 60.5 / 12
Bel South 2 = 59.5 / 12
Bangor = 53.5 / 12
NICS = 48.5 / 12
Ravens = 28.5 / 12
QUB = 27.5 / 12
Ballynafeigh 2 = 6.0 / 12
Div 2 Board Prize Winners
1.Sam Moore 6/8 = 75%
2.James O'Fee 5/6 = 83%
3.Bernard Jaffa 5/6 = 83%
4.Adrian Dornford-Smith 8/9 = 89%
5.Paddy Magee 5/6 = 83%