2012 Williamson Shield
Celebrating 100 years since the first competition for the Shield.
In 1904 Hugh Bellis Williamson, an expatriate Ulsterman travelled from New Zealand to his homeland for an extended stay. While here he played chess at the Strandtown Chess Club and before returning to the southern hemisphere presented to the club a Shield to be used in connection with a Championship tournament.
There were disagreements particularly with the Belfast Chess Club as to the precise arrangements proposed by the Strandtown club for the championship trophy. Eventually in 1912 agreement was reached and competition for the Williamson Shield finally began.
Therefore this year's renewal marks the centenary of the first tournament for the Shield.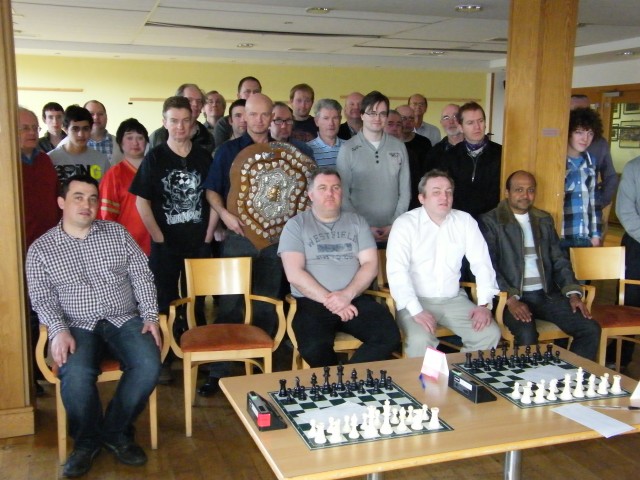 Celebrating the centenary
The tournament was held over the weekend of 3rd-4th March 2012 at the Maynard Sinclair Pavilion in the Stormont estate. The largest field since 2006 competed for the honour of gaining possession of the Shield for a year. Michael Waters won five straight games, including an intriguing endgame win in Round 5 against Stephen Scannell, before coasting to victory with a last-round draw.
No Name                  Rtg  Total  1    2    3    4    5    6  

1  Michael Waters        2111 5.5   18:W 10:W  2:W 16:W  9:W  4:D Winner
2  Callum Ormerod        1696 4.5   15:W 25:W  1:L  5:D  8:W  9:W Second
3  Ian Woodfield         1681 4.5   21:W  0:D  8:W  9:L 14:W 11:W Third
4  Danny Mallaghan       1767 4.5   29:W  6:D  0:D 25:W 16:W  1:D
5  Mark Newman           1803 4     24:W 14:W 16:L  2:D 10:D 18:W
6  Ross Harris           1522 4     28:W  4:D 32:W 11:D  7:L 16:W Grading Prize
7  Shane Lee             1710 4      8:D 20:W 27:W  0:D  6:W  0: 
8  Raymond Smith         1251 3.5    7:D 22:W  3:L 12:+  2:L 25:W Grading Prize
9  Stephen Scannell      2073 3.5   31:W 17:W  0:D  3:W  1:L  2:L
10 Steven Eachus         1540 3.5   26:W  1:L 12:W 13:D  5:D 17:D
11 Gareth Annesley       1962 3.5   12:L 21:W 19:W  6:D 17:W  3:L
12 Matthew Chapman       1336 3.5   11:W 16:L 10:L  8:= 32:W 23:W
13 Samuel Moore          1710 3.5   23:D 32:L 29:W 10:D 19:W 15:D
14 John Phillips         1523 3.5   30:W  5:L 23:D 32:W  3:L 24:W
15 Garry Johnston        1129 3.5    2:L 35:W 33:L 34:W 31:W 13:D
16 Damien Cunningham     1651 3     37:+ 12:W  5:W  1:L  4:L  6:L
17 Peter McGuckin        1591 3     34:W  9:L  0:D 20:W 11:L 10:D
18 Stewart McConaghy     1430 3      1:L 26:W 24:D  0:D 27:W  5:L
19 William Storey        1341 3      0:D 23:D 11:L 21:W 13:L 28:W
20 Derek Truesdale       1263 3      0:D  7:L 22:W 17:L 29:D 31:W
21 John Monaghan         1095 3      3:L 11:L 26:W 19:L 30:W 29:W
22 Martin Kelly          1394 3      0:D  8:L 20:L 28:D 34:W 27:W
23 Roy Stafford          1217 2.5   13:D 19:D 14:D 24:D  0:D 12:L
24 Robert Lavery         1336 2.5    5:L 30:W 18:D 23:D 25:D 14:L
25 Mohamed Saad          1486 2.5   35:W  2:L 34:W  4:L 24:D  8:L
26 Ashley McWhinney      963  2.5   10:L 18:L 21:L  0:D 35:W 32:W
27 Cathal Murphy         1264 2      0:D 33:W  7:L  0:D 18:L 22:L
28 Adrian Dornford-Smyth      2      6:L 29:D 31:L 22:D  0:W 19:L
29 George Jackson        1273 2      4:L 28:D 13:L 35:W 20:D 21:L
30 Peter Storey          803  2     14:L 24:L  0:W 31:L 21:L 34:W
31 Alan Burns            1344 2      9:L 34:L 28:W 30:W 15:L 20:L
32 Christopher Roe       1292 1.5    0:D 13:W  6:L 14:L 12:L 26:L
33 John Masterson        1882 1.5    0:D 27:L 15:W  0:   0:   0: 
34 Patrick Magee         1035 1     17:L 31:W 25:L 15:L 22:L 30:L
35 Finlay Kelly               0.5   25:L 15:L  0:D 29:L 26:L  0: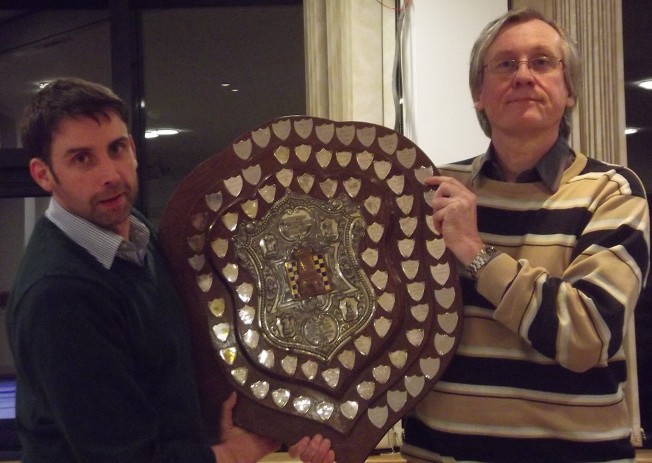 Centenary winner Michael Waters (left) receiving the Shield from Tournament Controller David McAlister