Williamson Shield 2020 - report by Arbiter Andy Boal
A brilliant weekend of chess at a top venue and prizes awarded by Ciaran Madden of Compass Financial Associates Ltd. who are sponsoring the Irish Junior Championships to be held in Belfast this year.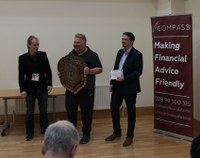 A total of 33 players competed for the 2020 Williamson Shield at Maynard Sinclair Pavilion on the weekend of 18th-19th January under the watchful eye of Chief Arbiter Richard Gould, ably assisted by Adrian Dornford-Smith and Andy Boal.
In the senior section, round 1 saw results go with the ratings with the exception of Chris Kelly and John McKenna, who earned draws with Danny Roberts and Danny Mallaghan, and Paddy Magee, who won against Mark Newman. The only real upset in round 2 was Ross Harris beating Nicholas Pilkiewicz.
In round 3, Gareth Annesley broke Gabor Horvath's 100% record and Paddy beat Ross Harris.  Paddy, who had had a travelling bye in Round 2, had his progress finally arrested by Gareth in round 4, where Ross Harris recovered ground by beating Daniil Zelenchuk and Michael Sheerin earned a draw against Nicholas Pilkiewicz.
Finally, Gareth beat Ross to claim the championship outright. Gabor Horvath came second with 4.0 points, leaving Ross to claim the under 1800 grading prize, and John McKenna the under 1600 grading prize, both with 3.0 points.
In the intermediate section, the first round saw James Wong and Aaron Wafflart break the seeding by winning against higher-rated opponents Bobby Thompson and Matthew Dougherty.  Pat McKillen and Aaron would hold their 100% record right through to round 3, before drawing with each other in round 4.
In the final round, James O'Fee beat Pat, while Aaron drew with Richard Gould to win the competition on the tie-break with James, both having 4.0 points but Aaron ahead on all tie-break measures.  Pat won the under 1450 grading prize with 3.5 points, and a win against Dexter Harris was enough to grant Richard Proctor the under 1250 grading prize with 2.5 points.
As well as Aaron playing very well against higher-rated players, Vincent O'Brien merits an honourable mention for a win against James O'Fee and a draw against Richard Gould, both 300 rating points his senior.
As well as the prizes from the Williamson Shield, Ciaran Madden of Compass Financial Associates Ltd. presented prizes from the 2019 Alan Burns Lackadaisical series and the Tom Clarke Grand Prix Trophy.
Prize-winners pictured left to right: Danny Roberts, Richard Proctor, Gabor Horvath, Ross Harris, John McKenna, Tournament Director Brendan Jamison, Gareth Annesley, Chris Kelly, Sponsor Ciaran Madden of Compass Financial Associates Ltd., James O'Fee, Pat McKillen and Aaron Wafflart
List of winners:
Champion: Gareth Annesley (5/5)
2nd: CM Gabor Horvath (4/5)
Under 1800 Grading Prize: Ross Harris (3/5)
Under 1600 Grading Prize: John McKenna (3/5)
Intermediate Champion: Aaron Wafflart (4/5)
Intermediate 2nd: James O'Fee
Under 1450 Grading Prize: Pat McKillen (3.5/5)
Under 1250 Grading Prize: Richard Proctor (2.5/5)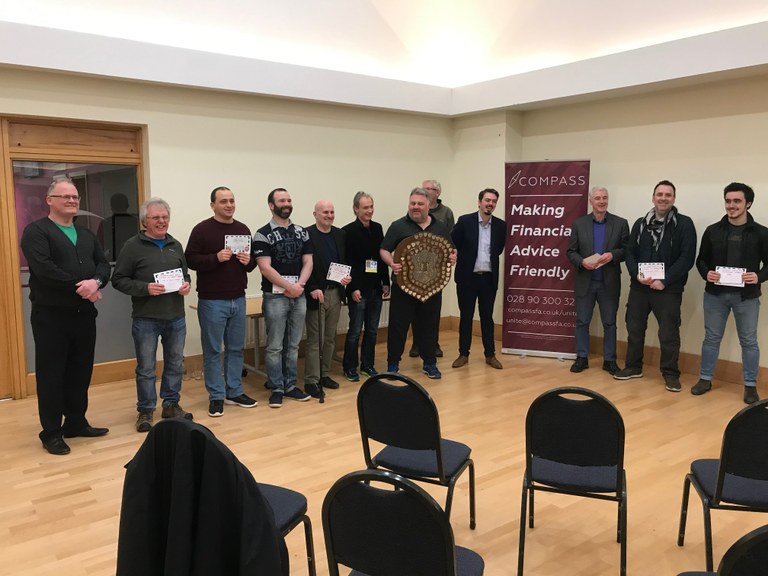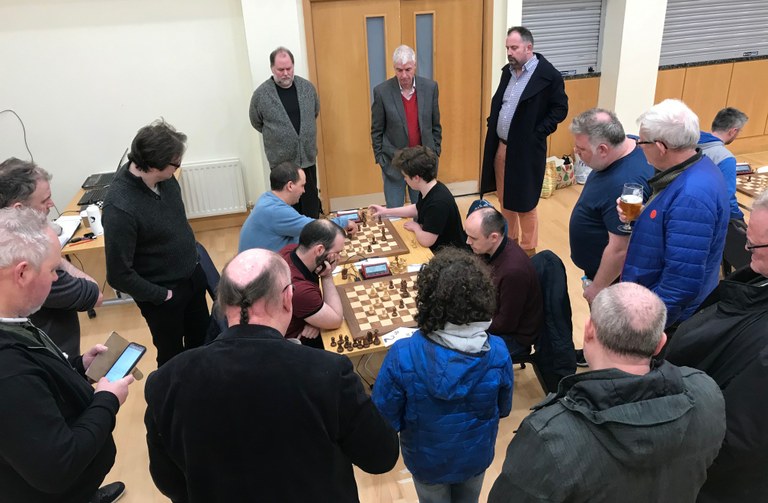 The full results from the Intermediate Championships: https://www.ulsterchess.org/competitions/competitions/comp-3036/cvt_event/standings/613#tabhead
The full results from the Senior Championships: https://www.ulsterchess.org/competitions/competitions/comp-3036/cvt_event/standings/612#tabhead
or on the live results page; http://www.ulsterchess.net/results/2020-01-19/
Play through some of the top games - thanks to Adrian Dornford-Smith and the intelligent boards... http://www.ulsterchess.net/2020-01-19/
Round 2 Photos
Round 3 Photos
Round 4 photos
Round 5 Photos