Matthew Turner GM plays Belfast at Simultaneous and wins
28 players with a variety of skills and a brilliant range of ages put their intelligence to the challenge of beating the Scottish Chess Champion Matthew Turner GrandMaster. On thursday evening 20th February at the excellent venue of the NICS Pavilion.Would they beat him!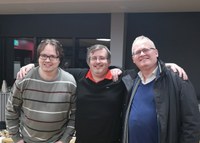 Every year we have a fantastic opportunity to play in a simultaneous against a top Grand Master, thanks to Damien Cunningham. This year was no exception.
Damien entertained GM Matthew Turner for the day showing him the sights of Belfast. Then players gathered at the excellent venue of The Pavilion NICS.
Brendan Jamison and Ross Harris setup the room with our names on the tables which we were going to sit at for the evening. Each table had a score sheet and a certificate of participation with the ominous words - Survived _____ Moves.
It was brilliant to see such a range of ages and playing skills. From Primary School players to retired players. From ratings of 700 to 2000. All looking forward to some fun chess and a rate opportunity to play a top Grand Master.
Matthew Turner arrived and was introduced by Damien. Matthew wish us all luck and as he played his moves included some fun banter/narrative. He wizzed around the tables at some speed. playing very different openings on each table. The Belfast team seem to be holding out. But then players were knocked out and their tables reset and the White King placed in the centre of the board. As players fell the pace which Matthew came around to our tables got quicker and quicker.
Then Danny Roberts got Belfasts first score - a draw. Could more players dent Matthew's winning streak. Down to 3 players standing - Robert Lavery, Conor Spackman and Aaron Wafflart. First Conor lost, leaving a piece on-prise then Aaron lost and all eyes were on Roberts game - both Kings were exposed, a very exciting position and Matthew repeated the position and offered a draw which Robert accepted. So Matthews final excellent score (incredible when you think of playing 28 players at once) was no losses, 26 wins and 2 draws and some brilliant chess.
Photos - thanks to Adrian Dornford-Smith for some of the pics. Thanks to the excellent venue. Thanks to Brendan Jamison and Ross Harris for assisting and enabling the event. To Damien Cunningham for organising and Matthew Turner (GM) for being a brilliant opponent - who took time to chat to players and have some good craic. Again this event has  provided one of the highlights of the Ulster Chess Year.
1.Danny Roberts 2005 (FIDE rapid)

2.Robert Lavery 1837 (FIDE blitz)
3.Brendan Jamison 1820 (UCU rapid)
4.Ross Harris 1804 (UCU rapid)
5.Michael Sheerin 1764 (FIDE blitz)
6.Chris Kelly 1740 (FIDE classic)
7.Mark Newman 1731 (FIDE classic)
8.James Wong 1677 (FIDE blitz)
9.Conor Spackman 1629 (FIDE classic)
10.Jim McLean 1579 (UCU blitz)
11.Ciaran Rowan 1535 (FIDE rapid)
12.Adam Rushe 1532 (FIDE blitz)
13.Stewart McConaghy 1510 (UCU rapid)
14.Eddie Khanzharov 1459 (UCU classic)
15.Dexter Harris 1397 (UCU blitz)
16.Adrian Dornford-Smith 1391 (FIDE blitz)
17.Pat McKillen 1385 (UCU blitz)
18.Neil Gardner 1290 (UCU blitz)
19.Aaron Wafflart 1222 (UCU blitz)
20.Michael Wong 1179 (UCU blitz)
21.Roy Stafford 1150 (UCU classic)
22.Stephen Maxwell 1010 (UCU blitz)
23.Geoff Hindley 1023 (UCU classic)
24.Geoff Sterrett 1149 (UCU blitz)
25.George Gamble 617 (UCU classic)
26.Ethan Cole 914 (UCU blitz)
27.Blake Harris
28.Peter Wong 683 (UCU blitz)