Omagh Rapidplay 2019
Players gathered at the annual Omagh Rapidplay 2019 on Saturday 30th November located at and Sponsored by Christian Brothers Grammar School. With two sections and both tough there was plenty of brilliant Chess.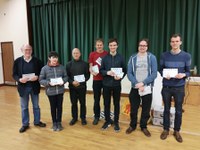 With a brilliant venue and a reasonably quick drive from Belfast (its always good to play outside of Belfast- meeting new players). I arrived with Brendan Jamison, Adam Rushe and Geoff Hindley - all ready to play the 6 rounds of chess with time control of 25mins. There were 13 players in the top section and 10 in the Junior section.
Brendan did a excellent job of running the tournament. Thanks also to John Bradley for organising the event.
Winners
The Senior Section
Champion: Calum Leitch (5.5/6)
2nd: Robert Lavery (4/6)
Under 1600 Grading Prize: Sam Moore (4/6)
Under 1300 Grading Prize: Adrian Gilmore (3.5/6)
The Junior Section
Omagh Junior Rapidplay Champion: James White (5/6)
Junior 2nd: Paddy Largey (4.5/6)
Under 1000 Grading Prize: Geoff Hindley (4/6)
Under 1300 Grading Prize: Roman McCabe (3/6)
Full results:https://www.ulsterchess.org/competitions/competitions/comp-3013/cvt_event/standings/607
Photos from the competition:
Photos of the winners: