USSR Ahead
Irish News: Chess Notes by Rookie 7-12-1989
The European Team Championships - taking place in Haifa, Israel - saw USSR smash  England 5-1 in Round 7 to lead on 29 points ahead of Yugoslavia, 26, and  Czechoslovakia, 25, with England eighth on 23.5. Scotland are joint 19th to 21st on 20.5, while Ireland and Wales share 23rd to 25th place with Turkey on 19.5, ahead of Belgium, Luxembourg and Cyprus.

Meanwhile, World Champion Garry Kasparov easily won the Belgrade International Tournament on  9.5/11, three points ahead of joint seconds, Timman and Ehlvest. This almost guarantees that his FlDE rating next month will be over 2800, thereby beating Fischer's world record rating of 2785. Then, last weekend Kasparov took part in the Infolink European Speed Championships at the Atheneum Club,  London, a knockout event for eight players.

Talking of speed chess, the UCU is holding its third Glorney Active Chess Tournament at the  Conference Room, QUB Students' Union, on Saturday, 16th December from registration at 9 to 9.30am. to prize giving at 6.45pm. Held in two sections, Open (1200 +) and Novices (under 1200), the event counts for both Active Chess ratings and Grand Prix points and entry fee is £3.
To avoid a late entry surcharge of £1, notify your entry before 10pm, December 15 to Alex Beckett, 33 Malone Hill Park, Belfast (tel. 660620).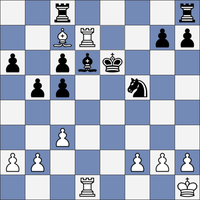 Attachments