QUB Blitz Report
On a perfect July night, the curtains of the Belfast chess scene opened up for the inaugural QUB Blitz tournament in Bar Sub of the Students' Union. Over 20 competitors packed into the Union's basement for five rounds of old fashioned, shoot-out style blitz.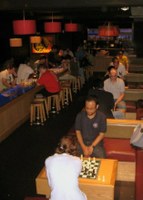 Blitz in Bar Sub
First place was shared jointly between Damien Lavery (QUB), John Bradley (Fisherwick), Cal Leitch (QUB) and Steve Scannell (QUB) - with Lavery and Bradley claiming 1st and 2nd spots respectively via tiebreak.
Damien raced out of the blocks to score 4 wins from his opening 4 games - recording victories over Constantine Talaleau, Ananda Srinivasan, Bradley and Leitch. However, he was pegged back by defeat to Scannell in the final round, forcing him to settle for a share of the spoils. Bradley, meanwhile, recovered from his loss against the eventual winner by seeing off Zul Zulkifli in his last match to ensure his place on the winners list.
Also collecting prize money for their performances were QUB novice PJ Mallon and RVH chess supremo Jo Mordeno. Mallon belied his ungraded status to notch up 3 wins from his 5 games - an indication of (and just reward for) the progress the first year student has made with his game since arriving at the club last September. Mordeno was equally delighted to be clinching his winner's cheque, recognition as it was for his "David v. Goliath" victory over top seed and Ulster Champion Scannell.
Those not fortunate enough to be cashing in on their night's chess were still able to enjoy the more relaxed atmosphere of informal tournament chess, the comfy modern surroundings of Bar Sub and the student-priced drinks. A winning formula may have been found here... The excellent level of interest generated by the Blitz suggests that similar events should continue to feature prominently on the QUB Chess calendar. Expect to be hearing of another opportunity to blitz it up with the best of Belfast chess by the time October rolls around.
More pics, final crosstable and video here: