QUB October Blitz Report
After the success of July's Blitz in Bar Sub, Belfast chess veterans and newcomers alike had October's event marked as a five star tournament not to miss.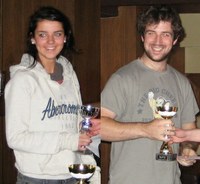 With a great atmosphere, Ulster's best players, many new faces and a steady supply of alcohol - the QUB October Blitz duly delivered upon high expectations. 36 players crowded into the SU's Bar Bunatee for what was to provide a superb start to the new University year and the 2008/09 chess season.
Full report, including pics and video, is available here:
http://quis.qub.ac.uk/chess/archives/0809/0809.htm#octoberblitz
UCU President David McAlister gives his view on the event from a player's perspective here:
http://nichess.blogspot.com/2008/10/qub-october-blitz.html
Chess afficianados can expect more of the same from QUB Chess over the coming weeks and months. Already confirmed is the QUB Rapid 2009, but there will be more before then!