Newry Rapid - Tournament Report
Newry Chess Club's event was a rapidplay on Sunday 8th May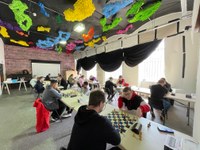 18 players descended on the Sticky Fingers Arts Centre for the return of the Newry Rapid after a two year break. With chess equipment lent by Bangor Chess Club, the children's arts centre saw players travel from near and far to compete in 6 rounds of 15+0. Once again the event was rated by FIDE, the International Chess Federation.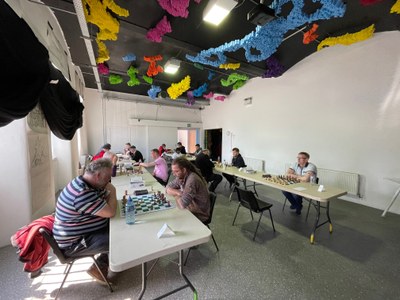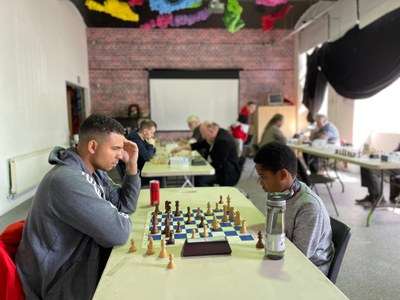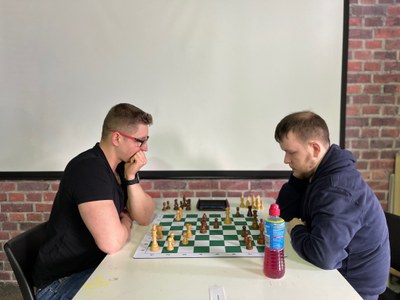 Congratulations to the day's champion Kamil Szulc (originally from Poland and now living close to Dungannon) who remained undefeated with the excellent score of 5.5/6.
In 2nd Place, the highest rated player Mandar Tahmankar from India (now living in Antrim) ended on 5/6.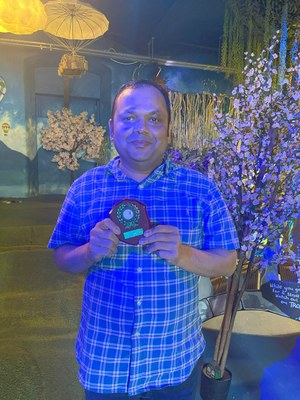 Cathal Murphy (from the outskirts of Newry) delivered 4 very impressive wins to secure the shield for 3rd place. 17 year old Calum Glendinning (from Holywood) also scored 4/6 and won the cup for the Grading Award. Meanwhile Adam Rushe (from Ards) ended on 3.5/6 to scoop the Junior Grading Award.
The cup for 'Best Newcomer' was awarded to Dean Gorman (originally from Wales but now living in Moy) who scored 3/6 in his first rapid tournament in Northern Ireland. We hope to see his wonderful enthusiasm for chess at many more events in the future.
It was also great to see two players from the Warrenpoint Chess Club competing again at this year's event, Colin Keenan and Andrzej Wesolowski, with the latter ending on 3.5 points and scoring a very impressive victory over multi-award winning chess legend Gareth Annesley (from Ballynahinch).
After two years away from chess, Tony Redden returned to the rapid circuit and enjoyed the drive down from Armagh in the beautiful sunshine. 11 year old Joshua Smirkle from Jamaica (now living in Enniskillen) was putting the top players under a lot of pressure and is one of the brightest rising stars in our local chess community.
Adrian Dornford-Smith travelled from Toome in Antrim and the Belfast highlights included Chris Armstrong, Gerard Obasi, Pat McKillen and Joe Gunning. Richard Morrow and Andrew Todd both travelled all the way from Bangor.
The art centre's Operations Manager Mark Revels presented the trophies and shields to the six prize-winners and Ger Barker came to photograph the winners and help pack up the tables and chairs at end of the event. The players expressed their sincere gratitude to the Sticky Fingers Arts Centre for hosting a very enjoyable afternoon of chess. It is hoped another event will return to Newry again soon.
Final results: