First Ladies Day event behind us
On Sunday 21st November, the Ulster Chess Union held a women's only event at Greenisland FC Chess.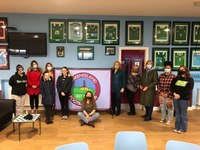 Women's Development Officer, Karina Kruk and Greenisland FC Chess Club director, Chris Dorrian worked together to bring about an event only for women in order to encourage more of them to play in Ulster.
Chris welcomed everyone to the club itself and explained how we hoped to grow these series to allow for a ladies tournament in the future. Karina followed his remarks by sharing her own experience and the opportunities available for ladies in chess.
We had ladies of all ages and abilities turn up for the event, from complete beginners to those already winning prizes at events! A superb youth representation in strength with Leah, Saoirse and Evie smashing the puzzle problems available in no time and putting in some strong games as well. We were also delighted to welcome Rebecca McClurg of Bangor Chess Club and Heather Lowry who had recently started a new club in Holywood.
The afternoon largely focused on casual play, learning and puzzle solving. What was however wonderful to see, was the ladies sharing tips on chess sites and apps which would help develop their game- an amazingly supportive group.
We finished off with a 3 round blitz, even Karina took part and to make things interesting only played with 1min30 on the clock. It was a fantastic way to finish the day as everyone got at least one point. Immortalising the moment with a group photo and smiles (behind the masks), we said our goodbyes.
Chris and Karina reminded the ladies there are two upcoming rapidplay events which would make for excellent practice and experience. Face masks and registration required for both.
5th December - NI Civil Service
12th December - Greenisland FC
Next event in these series to be confirmed. As soon as the details are set, they will be available on all UCU channels.
Is your club able to host this event? Get in touch with the UCU secretary
We look forward to seeing you all again soon!