We're recruiting!
The Executive Board is looking for two new officers: Web Editor & Fundraising Officer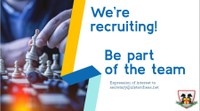 We're Recruiting
The Executive Board is looking to backfill the role of Fundraising Officer. We are looking for a keen individual who will explore options of fundraising for various events and tournaments etc.
Job profile: Fundraising Officer
Duties and Responsibilities:
- Research any available channels for fundraising for the Ulster Chess Union and its members and follow up
- Be responsible for any fundraising events
After a recent meeting, we have also decided to recruit for another exciting new role: Web Editor! We hope that by having a designated Officer, we will be able to add and review content with a faster turnaround.
Job Profile: Web Editor
Duties and Responsibilities:
- Prepare, collate, and review website news and events
- Ensure website is up to date
- Handle any incoming queries regarding the website content
- Be responsible for providing members with their log in details
- Liaise with the social media officer on content
Please submit your expression of interest to Karina via secretary@ulsterchess.net