Greenisland FC getting busy!
Greenisland FC Chess ran a couple of competitions at the start of November and we have all the details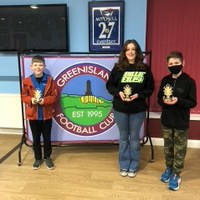 Greenisland FC Chess was delighted to welcome players from Strand, Civil Service, Queens and Ballynafeigh Chess Clubs on Monday 1st November for a mini rapid tournament.
With a 15 minute time control there was just enough time to give the positions some serious thought and just enough time pressure to raise a little panic to ensure the cool heads of the Ulster Chess Community prevailed. There were 5 very tight rounds of chess played with some excellent games contested.
In first and second places were Strand's Adam Rushe and Conor Spackman. In third place, continuing his superb rule of form was Civil Service's own Adrian Dornford-Smith. In a field of 18 players, 10 had ratings and 8 did not. The highest placed player without a rating was Greenisland own David Garvin.
Greenisland FC Chess then reopened after half term with a bang on the 5th November. Instead of easing back into things we decided to have a four round blitz tournament with three rounds of puzzles in between.
There were 21 youth and children competing strongly for three prizes of : The Chess Champion, the Puzzle Champion and the Overall Champion. Jake Duddy won the Chess Cup after an exciting play of match to decide the winner. Conor Leopold won the Puzzle Cup and Evie Gaw through a high class performance in the Chess Tournament and the Puzzle Rounds won the Overall Cup.
A big thank you should go out to Keith Jardine and Eddie Khanzharov for helping to mark the puzzles. All in all it was a brilliant night and the club looks forward to many more.
The club looks forward to welcoming you at the next Rapid Tournament on the 12th December: The Christmas shopping Recovery.