GFC Chess Children's Blitz
Greenisland FC Chess Club hosted another tournament for its burgeoning youth membership on Friday 22nd October.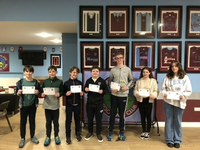 Prize Winners GFC
In all there were 23 youth players and one VERY brave parent willing to play in the tournament to even the number out. Thanks for taking one for the team and giving all a chance to play every game.
It was a night of competitive chess with a trophy open to all to win. Whilst there was strict adherence to the rules and cries of illegal moves were heard throughout the night, there was also some excellent examples of sportsmanship from our young players such as Rueben Milliken and Samuel Durrant, who both reminded their opponents to press their clock and even paused to allow for toilet breaks. Incredible spirit of fair play to see coming through for our youngest members.
The win was hard fought over the last two rounds and Andrew Campbell came out on top - congratulations, Andrew! In second place was Peter Murphy; joint third Leah Worbe, Evie Gaw and Joseph Quinn.
It was a brilliant night of youth chess with a time control of 7mins 30 seconds.
Greenisland FC Chess will certainly have a lot to offer to our younger members and looks to be filling in their calendar up quite nicely with events, with the next one on 5th November for a competition and puzzle night.